French frigate Surcouf trains with Kuwaiti Navy
French Navy's La Fayette-class frigate Surcouf conducted training with the Kuwait Naval Force last month as part of the Operation AGENOR.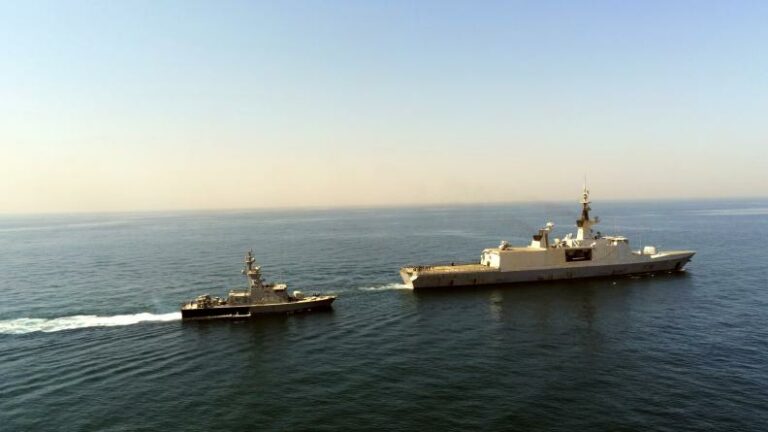 From 26 until 30 May 2022, the frigate Surcouf conducted several operations with the Kuwaiti Navy's vessels. The pilots of the AS565 Panther Helicopter were able to exchange with their Kuwaiti counterparts during a presentation of the helicopter's capabilities in the field of warfare.
This part of the exercise was concluded on May 30 after joint sea training with Kuwaiti Navy's patrol boat Maskan.
The training allowed the French and Kuwaiti navies to test their interoperability.
The navies will also conduct the Pearl of the West exercise that will take place at the end of 2022, following the signing of the defense agreements between France and Kuwait, will strengthen cooperation between the two countries.
The frigate then continued its mission sailing alongside the Greek tanker Maran Capricorn. The manoeuvre took place through the entire Gulf of Oman and eastwards through the Strait of Hormuz.
On 9 June, the vessel docked in Manama, Bahrain.
Operation AGENOR was launched in late 2019 when several commercial ships were attacked around the Strait of Hormuz. The operation is part of a maritime security initiative led by nine European countries in the Strait of Hormuz to promote safe transit and freedom of navigation for merchant shipping, EMASOH.
Belgium has been in charge of the operation since 1 March 2022.
AGENOR's mission is to ease tensions and protect European economic interests by guaranteeing freedom of navigation in the Strait of Hormuz.