Keel laid for second MCM vessel of Belgian-Dutch minehunter program
French shipbuilding major Naval Group has laid the keel for the second of the twelve mine countermeasure vessels of the Belgian-Dutch minehunter (rMCM) program intended for the Royal Netherlands Navy.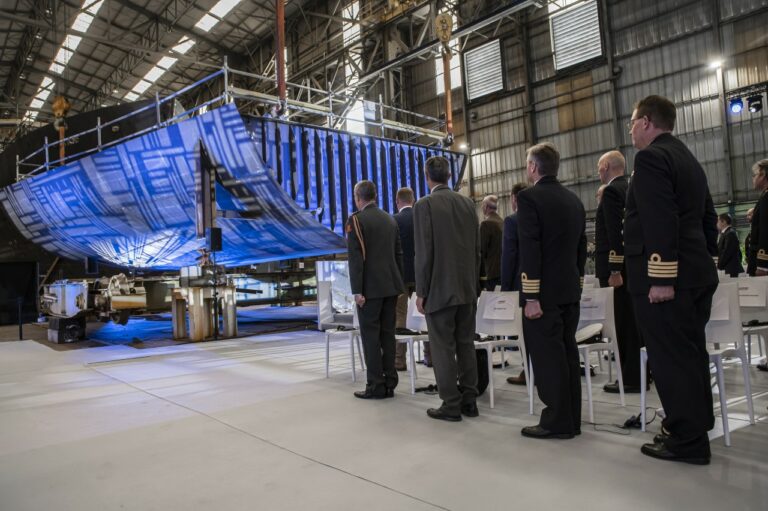 The keel-laying ceremony for the vessel HNLMS Vlissingen was held in Lanester on 14 June. The keel for the first vessel of the minehunter program was laid in December last year.
This program was awarded in 2019 to Belgium Naval & Robotics, the consortium formed by Naval
Group and ECA Group, following an international competition.
Under the program, the companies will supply the Belgian Navy and the Royal Dutch Navy twelve mine countermeasures vessels and around a hundred drones integrated inside a toolbox that will equip the vessels.
On the other hand. Kership, a joint venture between Naval Group and Piriou, is in charge of the production of the twelve vessels which are assembled in Concarneau. They will be armed afloat by Piriou.
Naval Group, as overall architect and prime contractor, is responsible for the design of the ships, the overall integration, and the testing and commissioning of the mission system (combat system and mine countermeasures system).
Furthermore, ECA Group, as co-contractor, is in charge of the unmanned drones' system. The drones will be produced in ECA Group workshop (Ostend, Belgium).
The maintenance of the ships will be carried out in Belgium in close collaboration between the Belgian Navy and Naval Group Belgium, with the assistance of its partner Flanders Ship Repair.
MCM vessels – specifications
These specialised MCM platforms are the first to have the capability to embark and launch a combination of surface drones, underwater drones and aerial drones.
The mine countermeasures platforms will use a mainly autonomous system for the detection, classification and neutralization of mines.
According to the company, they can withstand underwater explosions and have very low acoustic, electrical and magnetic signatures, in line with the missions to be carried out.
These mine countermeasure platforms have the following characteristics:
Length: 82,6 meters;
Width: 17 meters;
Displacement: 2800 tons;
Maximum speed: 15,3 knots;
Range: >3500 nautical miles;
Crew: 63 people (base crew 33 people);
Drone capabilities: ECA Group's UMISOFT System, 2 unmanned surface vehicles, 3 autonomous underwater vehicles, 2 towed sonars, 2 mine identification and disposal systems (MIDS) systems, 2
unmanned aerial vessels.
The first delivery is scheduled for the end of 2024 in Zeebrugge, Belgium. Deliveries will then be staggered until 2030.
Follow Naval Today on: