Dutch amphibious transport ship Johan de Witt readies for midlife upgrade
The Royal Netherlands Navy's amphibious transport ship Johan de Witt has gone into dry dock as part of its midlife update and appointed maintenance (BO).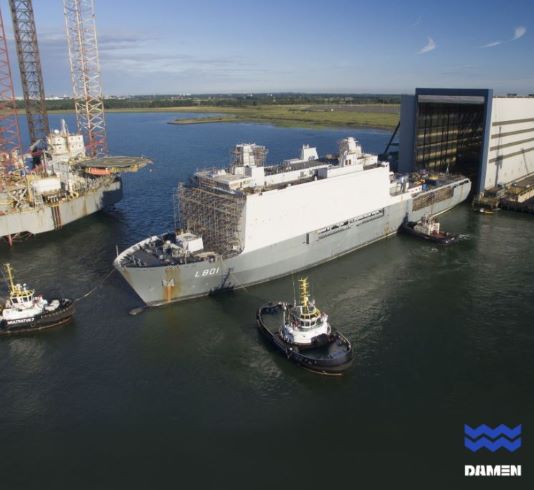 According to the Dutch shipbuilder Damen, while in dry dock the ship will be repainted, among other things.
During the MLU/BO, the ship will undergo approximately 75 modifications. These include upgrading the automation systems and the networks, installing modern sports facilities, and modernising the medical facilities.
The ship will remain in dry dock until the end of the year, after which it will be towed back to Den Helder in April 2023 for decommissioning.
Damen Naval and RH Marine, which specializes in maritime electrical and automation systems, are carrying out the contract with the Defence Material Organization and the Naval Maintenance and Sustainment Agency, the maintenance branch of the navy.
In January 2020, the companies signed the contract to carry out the maintenance work.
HNLMS Johan de Witt is the Royal Netherlands Navy's second LPD. The ship, displacing 16,800 tons, was launched on 13 May 2006.