US Navy demos new mine countermeasure tech on MQ-8C Fire Scout
The US Navy has demonstrated a mine countermeasure (MCM) prototype technology aboard the MQ-8C Fire Scout unmanned aerial system (UAS) at Eglin Air Force Base, Florida, proving a capability that could allow the warfighter to rapidly detect and respond to threats.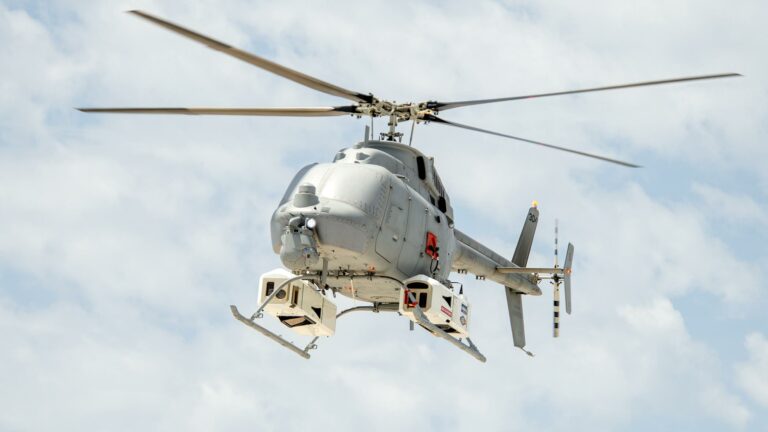 The goal of the demonstration was to gather performance data for both the MQ-8C Fire Scout and Single-system Multi-mission Airborne Mine Detection (SMAMD) System to inform future MCM integration efforts.
"The team successfully demonstrated that the prototype SMAMD System effectively operates as designed aboard the MQ-8C Fire Scout unmanned helicopter in relevant real world environments," said Capt. Thomas Lansley, Fire Scout program director.
The team conducted operations from the Naval Surface Warfare Center (NSWC) using drifting, tethered, and moored mines throughout the beach zone to deep waters.
Furthermore, they gathered data day and night, across all water depths and in mild to difficult weather conditions.
According to the navy officials, the air vehicle handled the dual podded system with ease, being the first MCM capability flown on the MQ-8C as well as the heaviest payload carried to date.
Fire Scout successfully operated in restricted and unrestricted air space alongside other aircraft platforms.
The SMAMD System, developed by BAE Systems under a Future Naval Capability (FNC) Program sponsored by the Office of Naval Research (ONR), is an airborne optical sensor suite that, in a single pass, detects and localizes mines and obstacles on land and at sea.
"With a low false-alarm rate, SMAMD provides real-time detection sent via data link enabling warfighters to respond much quicker to threats than the current MCM technologies allow as post-mission analysis is required," the navy stated.
This effort, led by ONR, included support from multiple organizations across the US Navy and industry. The project involved close coordination between the U.S. Air Force, ONR, NAVAIR, NAVSEA and other stakeholder organizations to successfully achieve their objectives in less than 24 months and at a reduced cost.
To remind, in May this year, the US Navy sent MQ-8C Fire Scout on an Indo-Pacific deployment for the first time. The vessel conducted operations aboard Independence-class littoral combat ship USS Jackson (LCS-6).
Designed in San Diego, California and Fort Worth, Texas by a joint Northrop Grumman/Bell team and manufactured in Ozark, Alabama and Moss Point, Mississippi, the MQ-8C achieved initial operational capability in June 2019 and will begin replacing the MQ-8B variant on the upcoming deployments.