Schiebel's Camcopter S-100 supports Icelandic Coast Guard's surveillance activities
Schiebel's Camcopter S-100 is supporting the Icelandic Coast Guard with maritime situational awareness for an array of operational tasks, through a contract with the European Maritime Safety Agency (EMSA).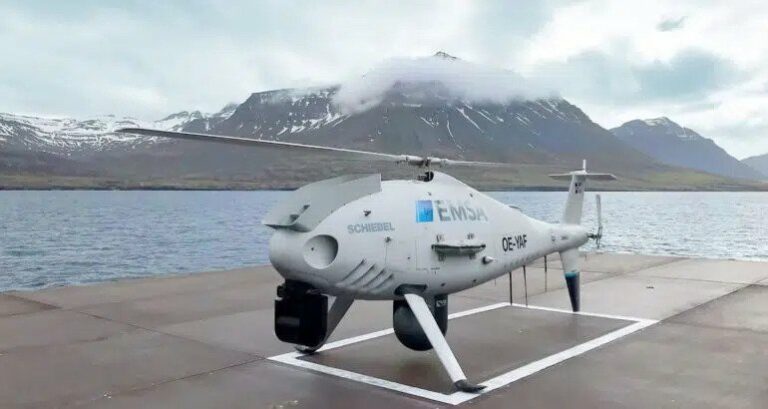 As informed, this remotely piloted aircraft system (RPAS) is currently deployed from the patrol vessel ICGV Thor and from ICGV Freyja.
The vessel's main task is being able to identify vessels and activities of interest at a much greater range than normal, thereby substantially extending the ship's situational awareness.
The tasks are being conducted with the help of "a Trakka TC-300 (and in the future with an MX-10 Gen-4) Electro-Optical / Infra-Red (EO/IR) camera gimbal, an Overwatch Imaging PT-8 Oceanwatch wide-area camera, a Becker Avionics BD406 Emergency Beacon Locator and an Automatic Identification System (AIS) receiver".
These activities give the Icelandic Coast Guard the possibility of gaining better coverage of its large Exclusive Economic Zone (EEZ), according to the company.
"This operation is delivered as part of our ongoing service contracts with EMSA. It is great to witness that ever more European maritime authorities are making use of the exceptional capabilities of the S-100. Especially in the maritime domain, the CAMCOPTER S-100 is demonstrating its solid level of performance and experience," Hans Georg Schiebel, Chairman of the Schiebel Group said.
To remind, in May this year, Danish Navy deployed Camcopter S-100 to carry out maritime surveillance tasks over a two-month period.
All data gathered from the flights will be shared live through the EMSA RPAS Data Centre allowing users to monitor any unusual activity at sea with a potentially harmful impact on the safety and security of persons and vessels in the area or affecting the environment itself.