French Navy's first POM OPV conducts sea trials
French Navy's first Patrouilleur d'Outre-Mer (POM) offshore patrol vessel (OPV), Auguste Benebig, has been conducting sea trials, the navy revealed.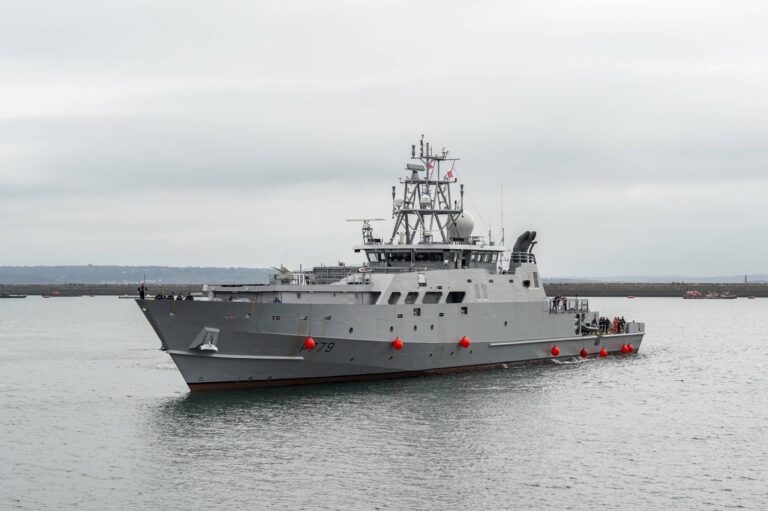 According to French Navy's Chief of the Naval Staff Admiral Pierre Vandier, the vessel carried out its first sea trials and arrived at the naval base in Brest. Now the crew will continue their voyage to the vessel's homeport in Noumea.
As part of the navy's POM program, French shipyard Socarem was awarded a contract to build six OPVs. Auguste Benebig, the first vessel of the class, was launched in October 2021.
The 80-metre-long ships will serve as part of the navy's POM program, providing surveillance and protection for France's extensive exclusive economic zone (EEZ), which includes parts of the Caribbean and the Indian Ocean.
Furthermore, the units will be dedicated in particular to the fight against drug trafficking and illegal fishing activities, as well as to the preservation of the environment.
"The modernization of our overseas fleet is essential, because the challenges of protecting our territories and our sovereignty are numerous there. The arrival of the POMs will thus enable the Navy to strengthen its presence in the French EEZ," Vandier commented.
Each of the six diesel-electric POM ships will deploy one PLD-5000 fast rescue boat davit system to enable fast launch and rescue operations in waters surrounding French overseas territories.
Marine davit manufacturer Vestdavit was contracted to supply fast rescue boat davit systems for all six vessels in October 2020.