US Coast Guard cutter conducts at-sea ops with Singapore Navy in South China Sea
The US Coast Guard cutter Midgett (WMSL 757) has conducted at-sea operations and exchanges with the Republic of Singapore Navy.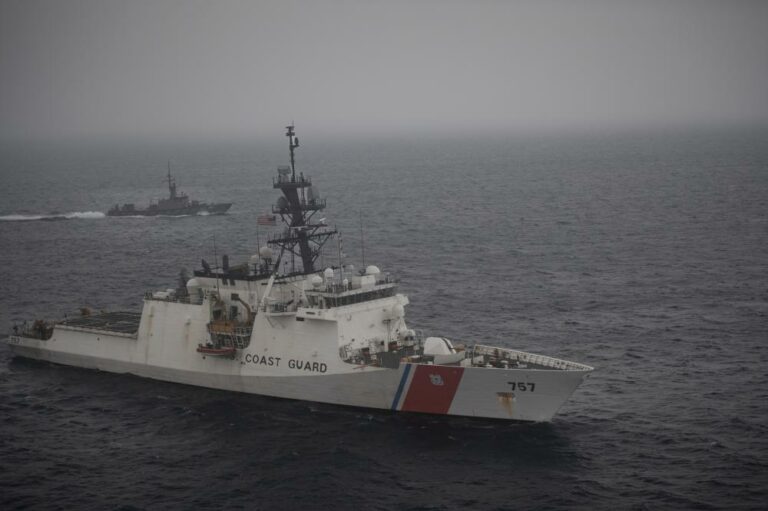 Midgett and the Republic of Singapore Navy Maritime and security response vessel (MSRV) Bastion conducted a passing exercise, maneuvering drills and communication exercises between the two ships within international waters in the southern reaches of the South China Sea.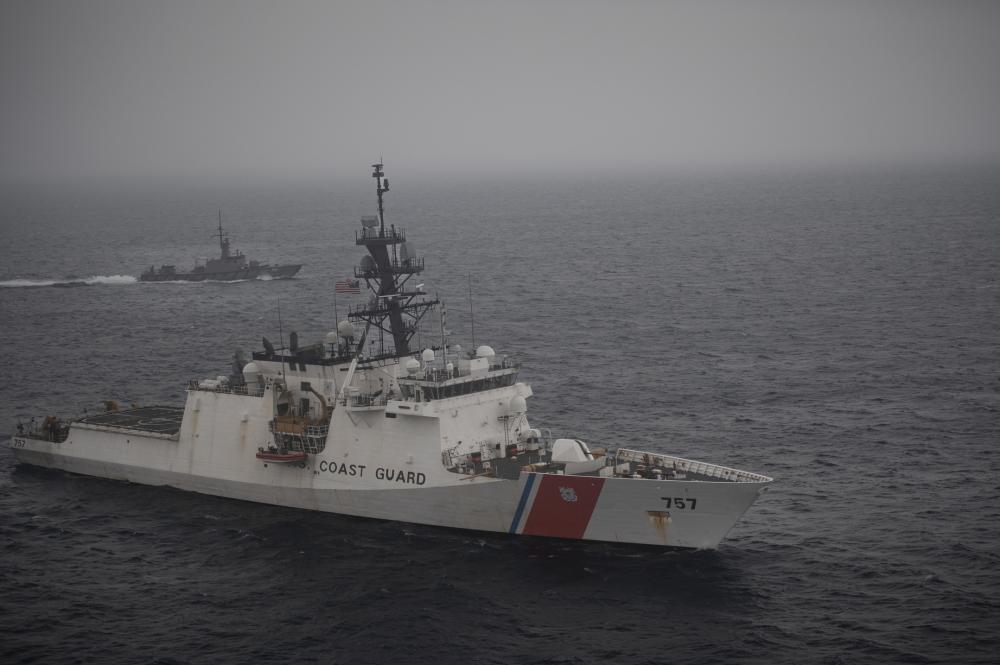 Legend-class cutter also embarked on Republic of Singapore Navy ship to observe the operations.
Midgett's crew launched the embarked aircrew and MH-65 Dolphin helicopter and the cutter's unmanned aerial vehicle during the at-sea operations.
The unmanned aerial vehicle was used during an anti-piracy communication exercise to locate and capture imagery of a simulated vessel that was overtaken.
"Partnering with the Republic of Singapore was a fantastic opportunity to increase our interoperability with our partners and strengthen maritime governance in the region," said US Coast Guard Capt. Willie Carmichael, commanding officer of the Midgett. 
Midgett is operating in support of United States Indo-Pacific Command, which oversees military operations in the region.
Operating under the tactical control of the Commander, US 7th Fleet, the cutter's crew plans to engage in professional and subject matter expert exchanges with regional partners and allies and will patrol and operate as directed during their Western Pacific deployment.
Commissioned in 2019, Midgett is one of two Coast Guard Legend-class national security cutters homeported in Honolulu. National security cutters are 418 feet (127.4 meters) long, 54 feet (16.4 meters) wide, and have a 4,600-long-ton displacement. They have a top speed in excess of 28 knots, a range of 12,000 nautical miles, endurance of up to 90 days and can hold a crew of up to 170.
The US Coast Guard has a 150-year enduring role in the Indo-Pacific. The service's ongoing deployment of resources to the region directly supports US foreign policy and national security objectives in the Indo-Pacific Strategy and the National Security Strategy.
NSCs are designed to be the flagships of the Coast Guard's fleet, capable of executing the most challenging national security missions, including support to US combatant commanders. Huntington Ingalls Industries' Ingalls Shipbuilding division is the sole builder of Legend-class NSCs.
Since 2019, the Coast Guard cutters Bertholf (WMSL 750), Stratton (WMSL 751), Waesche (WMSL 751) and Munro (WMSL 755) have deployed to the Western Pacific.