Royal Navy welcomes final Mk4/4a Merlin helicopter
The UK Ministry of Defence (MOD), on behalf of the Royal Navy, has received its final AW101 Mk4/4a Merlin helicopter from aerospace and defence company Leonardo.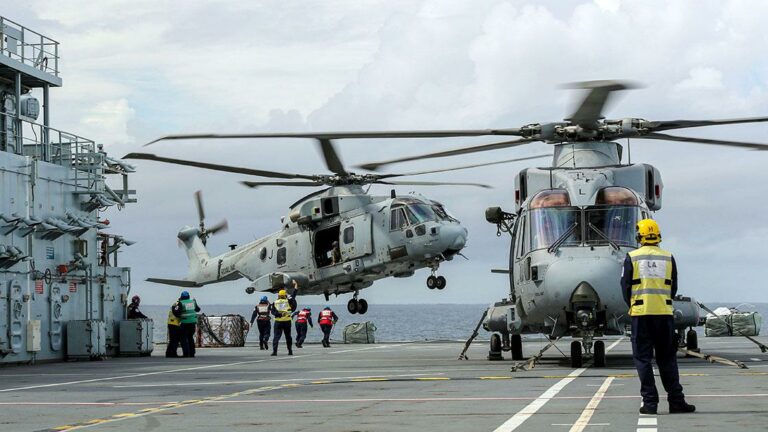 This aircraft was part of the Merlin Life Sustainment Programme, which entailed the upgrade of 25 AW101 Merlin Mk3/3a aircraft.
The aircraft modifications include new cockpit avionics, and ship optimization including a folding main rotor head and folding tail to enable the helicopters to use from ships for littoral maneuver.
Recognising the need to replace the legacy Sea King Mk 4 Commando Helicopter, the Merlin aircraft were transferred to the Royal Navy in 2014 and the airframes commenced an upgrade program to become the Merlin Mk 4. 
Within their new role with the Royal Navy's Commando Helicopter Force (CHF), the aircraft are now required to operate from amphibious ships and provide a sea-to-shore assault capability, often in support of troops from the Royal Marines. 
The new designs have equipped the aircraft with a folding main rotor head and a new tail section to provide a folding tail ability – both of which are essential to allow the aircraft to operate from the new Queen Elizabeth-class carriers and Albion-class landing ships. 
The upgrade also introduced a new Glass Panel cockpit display system with five separate screens allowing multi-functional displays that can show moving maps with tactical symbology overlays, images from the Electro Optical Camera, or a read out from the aircraft engine and electrical systems.
In addition, the aircraft was fitted with a new fast roping beam that allows the rapid deployment of Special Forces (SF) from the main cabin door – therefore this opens up a new SF support role for the aircraft.
To remind, the Royal Navy received its first upgraded helicopter back in 2018.
"The Merlin Mark 4 – colloquially known as the Commando Merlin – is proving to be a game-changing capability upgrade for the CHF. It has already demonstrated itself to be a critical enabler of the Royal Navy's strategic outputs – contributing to the security of the UK and delivering the United Kingdom's Commando Forces in the littoral," Colonel Mark Johnson, Royal Marines, Commanding Officer of CHF, said.