Royal Navy's Type 45 destroyer HMS Daring completes PIP 
Royal Navy's Type 45 destroyer HMS Daring has completed Power Improvement Project (PIP) installation at Cammell Laird's Merseyside facility.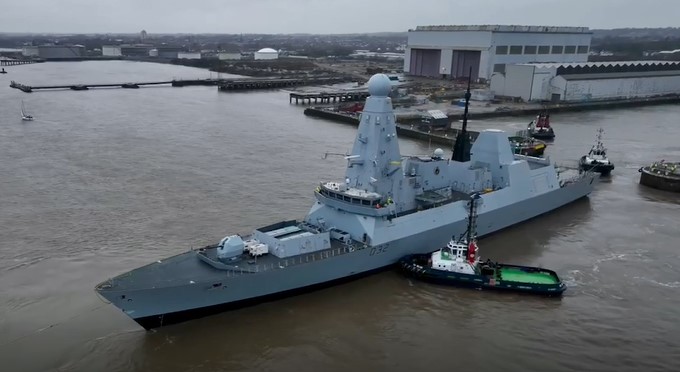 According to the shipyard, the vessel spent last year having its power and propulsion system converted as part of the MOD's Power Improvement Project (PIP) for the Royal Navy's Type 45 destroyers.
Daring is the second ship, after HMS Dauntless, to complete the PIP installation at Cammell Laird. As with Dauntless, Daring's upgrades are expected to provide greater resilience to its engines and power generation.
David McGinley, Chief Executive Officer of Cammell Laird, said: "Cammell Laird was delighted to complete the programme of works on HMS Daring on time and to budget."
"We had the privilege of completing the Power Improvement Project (PIP) on HMS Dauntless, the first of class to undergo the Type 45 PIP. Our team has applied the vital lessons learned from the first ship to HMS Daring and this has enabled the PIP installation work to be completed more quickly and efficiently."
All six Type 45s – HM Ships Daring, Dauntless, Diamond, Dragon, Defender and Duncan – will be fitted with the Sea Ceptor missile system on top of crucial upgrades to the destroyers' principal weapon, the Sea Viper.
Each destroyer carries up to 48 Sea Viper missiles, each held in a vertical-launch silo on the forecastle, each capable of taking out aerial threats at ranges up to 75 miles away, accelerating out of its launcher to reach speeds in excess of four times the speed of sound.
The evolution upgrade is designed to deal with the increasing threats posed by anti-ship ballistic missiles, ensuring the Type 45 is able to defend the Fleet – especially Carrier Strike Groups – against complex air threats both now and into the future.
HMS Daring has had a busy life since commissioning in 2009, circumnavigating the globe from May 2013 to February 2014.
The vessel conducted radar trials in the Pacific Ocean, provided relief to the stricken islands of the Philippines following typhoon Haiyan.