UK's autonomous minehunter kicks off uncrewed trial ops in the Gulf
Royal Navy has announced that an uncrewed boat that can search for and detect underwater threats has arrived in the Gulf to start its uncrewed trial operations.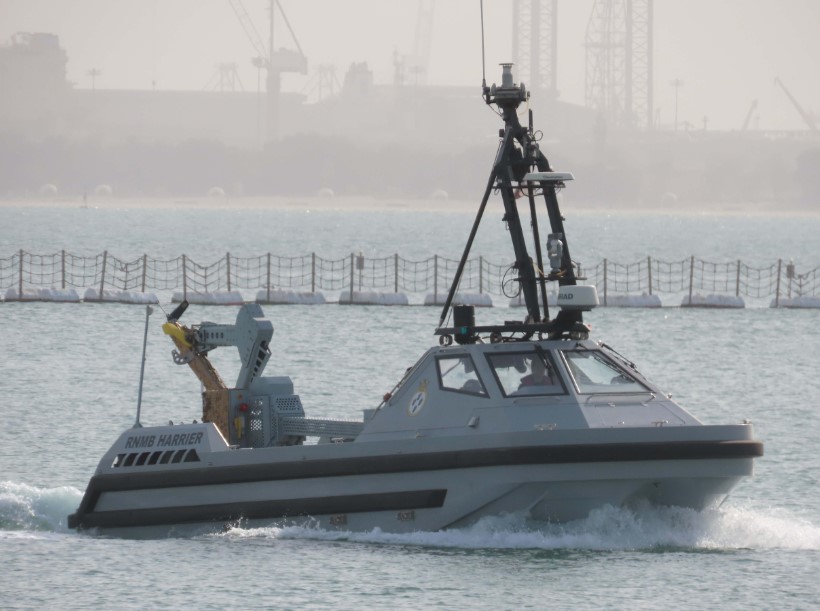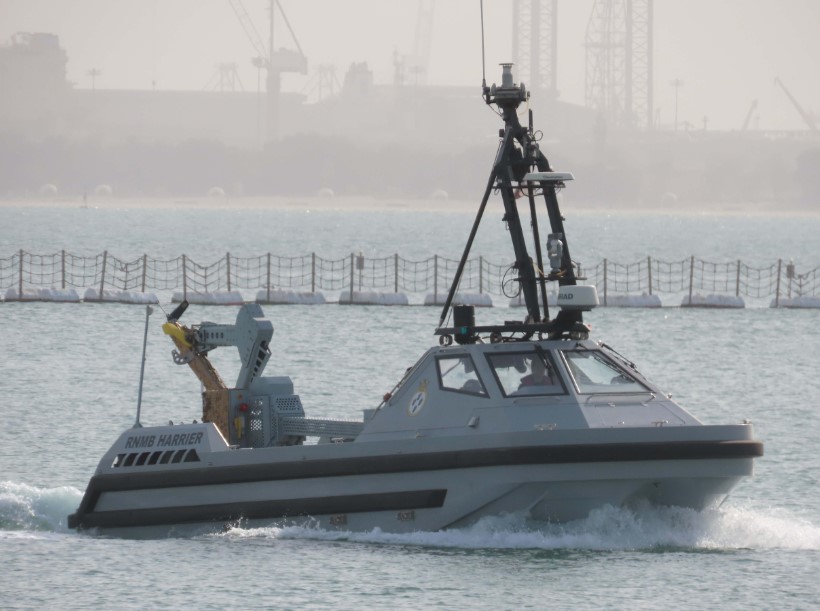 Royal Navy Motor Boat Harrier is part of the ten-year programme for replacing the navy's current fleet of mine counter measure vessels and its time in the region will lay the foundation for the future autonomous kit.

While deployed for operations, the 11-metre boat will work with host ship RFA Cardigan Bay to conduct a series of demonstrations and trials that will prove its ability to operate in the harsh and demanding weather conditions of the Gulf.

Harrier is capable of operating both autonomously (pre-programmed to conduct a mission) or remotely from a ship or shore-based remote control centre.
It tows a side-scan sonar behind to look for mines on the seabed, alerting units ashore or at sea of their whereabouts. In the future, the vessel will also work with remotely operated underwater vehicles and a mine sweeping system.
The tests will be key for seeing how the Atlas remote-controlled mine sweeper boat deals with hot climates, having already proved its ability in UK waters. The unit will face water temperatures of more than 30C in the summer, very different from its previous home of Faslane.

Harrier will be put through the paces on integrating with Royal Navy personnel and units in the region – mine counter measure battlestaff, the UK's Naval Support Facility in Bahrain and countries who work with the UK.
 
It will also provide another arrow in the quiver of the mine countermeasures Commander and its success will be stepping-stone for complimentary autonomous kit coming available in the near future.
Lieutenant Commander Mark Shaw, commanding officer of Mission System Team One in the Mine Threat Exploitation Group, said: "We are excited to be involved in the Mine Hunting Capability programme which will transition the Royal Navy from a ship-based mine counter measures (MCM) capability to maritime autonomous off-board systems."
"This is a step change in the way the Royal Navy conducts MCM, and we are not just proving the equipment and operating procedures but setting the template on how we operate and integrate within the wider force."
A move towards autonomous mine-hunting will enable the Royal Navy to counter the rapidly evolving threat of modern sea mines while reducing the risk to sailors.