UK's fifth Astute-class submarine sails for the first time
HMS Anson, the fifth Astute class submarine, which BAE Systems has designed and built for the Royal Navy, has departed the Company's shipyard in Barrow-in-Furness, Cumbria, and headed out to open sea for the first time.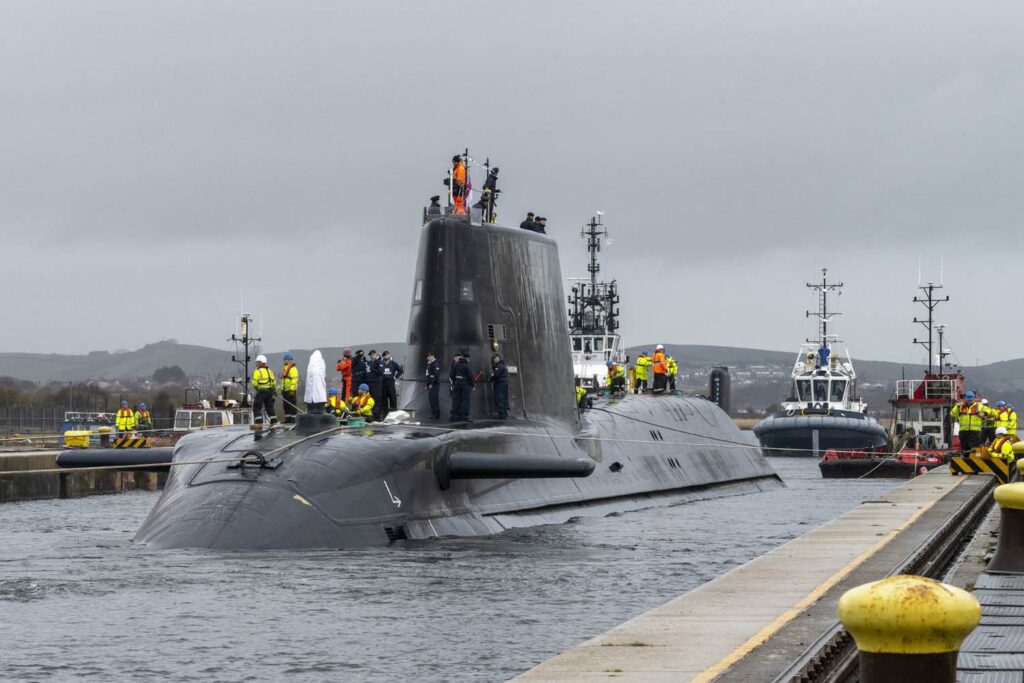 After being guided through the shipyard's dock system and rounding the tip of Walney Island, HMS Anson began its maiden journey to His Majesty's Naval Base Clyde, home of the UK's Submarine Service. The vessel will undertake sea trials before joining HMS Astute, HMS Ambush, HMS Artful and HMS Audacious, in operational service with the Royal Navy.
The submarine is the eighth Royal Navy vessel to bear the Anson name, after Admiral George Anson.
The Astute class, the first nuclear-powered submarines to be designed entirely in a three-dimensional, computer-aided environment, represent the cutting edge of the UK's military capabilities,
The nuclear reactors that power the Astute class never need to be refuelled during their 25-year service period, while the ability to purify water and air means their range is only limited by the amount of food on board.
As a result, like its sister boats, HMS Anson will be capable of circumnavigating the globe without resurfacing. The submarine is 97 meters long and weighs 7,800 tonnes. It is armed with the long-range Tomahawk land attack missiles and Spearfish heavyweight torpedoes.
"HMS Anson will play a vital role in defending the UK, providing a competitive edge for decades to come, and I am proud to see her make her journey up to her permanent home on the Clyde. Supporting tens of thousands of jobs across the UK, our Astute-Class submarines are a leading example of our commitment to defence manufacturing, continuing to boost British industry for decades to come," Ben Wallace, Secretary of State for Defence, stated.
The final two submarines in the class – Agamemnon and Agincourt – are in various stages of construction at Barrow.
The Dreadnought class submarines, which will replace the Royal Navy's Vanguard class, carrying the UK's independent nuclear deterrent, are also being designed and built in Barrow-in-Furness with manufacturing work underway on the first three of four boats.
BAE Systems is also undertaking early design and concept work for the Royal Navy's next generation of submarines which will eventually replace the Astute class, referred to as SSN-Replacement (SSNR).
These programmes are supported by BAE Systems Submarines' growing workforce of more than 11,000 people which will be bolstered later this year when more than 600 apprentices and 200 graduates join the business. BAE Systems' submarine business will also be recruiting more than 2,500 experienced professionals into its workforce to help deliver the three programs of work.