Keel laid for Brazilian Navy's 1st Tamandaré-class frigate
On 24 March, the Brazilian Navy and Águas Azuis, a special purpose entity (SPE) formed by thyssenkrupp Marine Systems, Embraer Defense & Security and Atech, laid the keel for the first Tamandaré-class frigate.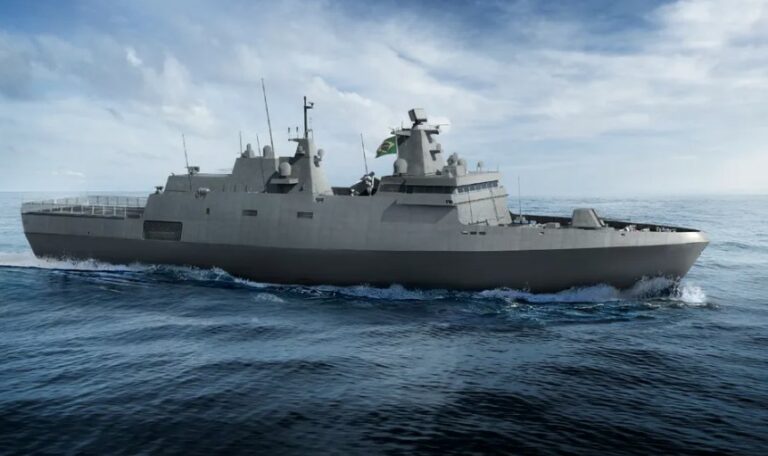 The ceremony, which took place at thyssenkrupp Estaleiro Brasil Sul in Itajaí, Santa Catarina, was attended by the Commander of the Navy Fleet Admiral Marcos Sampaio Olsen, and other civil and military authorities from the defense sector and the naval industry.
Oliver Burkhard, CEO of thyssenkrupp Marine Systems, stated: "We will provide the Brazilian Navy with high-end frigates that combine the edge of naval technology, innovation and robust combat capabilities and that will contribute greatly to Brazil's national security in protecting the Amazônia Azul and beyond."
Nowadays, with the engineering evolution and the modern production processes adopted in the Tamandaré Class Frigates Program (PFCT), it is possible for the ships to be built in blocks.
In the case of the Tamandaré frigate, the first of the four ships in the PFCT, the keel laying was characterized by the positioning at its building site of an important structural block, which corresponds to the forward engine room. In this metal structure, which weighs approximately 52 tons, two engines, a gearbox and several pumps and auxiliary equipment will be installed.
In this way, it is possible to install accessories and foundations in advance, in addition to facilitating the placement of equipment on board and enabling work to proceed in different stages in a segregated manner for each unit. The process also increases employee safety by keeping spaces open longer during construction.
The state of PFCT construction is advancing within schedule, and currently represents 34 % of its total evolution. For the next stages, it is planned to build the block that forms the aft engine room, with the positioning of the equipment and engines in place.
Next, the built blocks will complete the central structures of the ship. It should be noted that, of the more than fifty structural units that make up the construction sequence of the first Tamandaré-class frigate, about a quarter are in the process of structural assembly at thyssenkrupp Estaleiro Brasil Sul, and others are already cut and shaped, with panels and subassemblies completed.
The launch of the Tamandaré frigate is estimated for mid-2024 and its delivery to the Brazilian Navy at the end of 2025. The cutting of the hull plate of the second Tamandaré-class frigate is expected to take place later this year.
On 21 June 2022, a prototype of the engine room compartment section was completed; this is used for the qualification of various processes related to the manufacture of the vessels.
As a highlight of the stages already carried out, the hull plate of the first Tamandaré-class frigate was cut on 5 September 2022, this being considered the main milestone for the beginning of the construction phase.