UK's Type 45 destroyer deploys to the Caribbean after major overhaul
Royal Navy's Type 45 destroyer HMS Dauntless has deployed to the Caribbean to support British Overseas Territories during hurricane season and counter drugs trafficking in the region.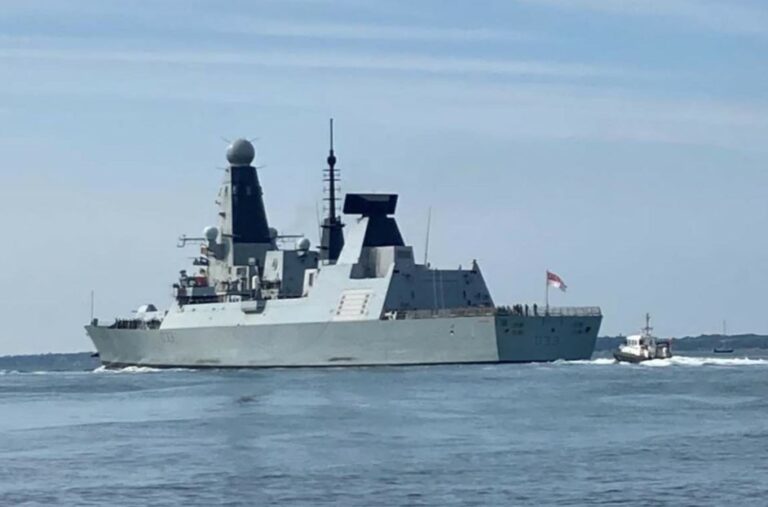 HMS Dauntless left Portsmouth with brand new engines after becoming the first ship in its class to undergo the Power Improvement Programme (PIP).
The Type 45 destroyer is now sailing across the Atlantic, after a brief stop in Plymouth, for missions across the Caribbean, having left Portsmouth on Tuesday and a final weapons trial in the Channel
Dauntless was declared ready for operations last month after nine intensive months of training, passing all demanding trials, tests and finally a gruelling assessment of her crew and all weapons and systems.
The ship will be in the Caribbean to respond quickly to natural disasters during the region's hurricane season from June to November, while visiting island communities as a reassuring presence, working with local services and authorities to ensure the most rapid and effective aid is provided should nature strike.
Dauntless will also patrol the Caribbean to counter illicit activities, in particular working with US Coast Guard and other law enforcement agencies in the ongoing fight against drug trafficking in the region.
The three new efficient engines, replacing two original diesel units, ensure the 8,500-tonne destroyer has a more reliable, robust source of power to propel it through the water at speeds in excess of 32kts – and also power the equipment on board.
The new engines proved their reliability during the ship's Operational Sea Training (OST), with the ship available throughout and missing none of its planned days at sea.
It meant Dauntless completed that training off the South Coast in only four months, regenerating quicker than expected and faster than most of her fellow Type 45s, according to the navy.