UK's warship trio protects world's largest warship in Arctic exercise
The Royal Navy has recently formed a protective ring of steel around the world's largest warship in the Arctic Circle during combined security exercises in the high north.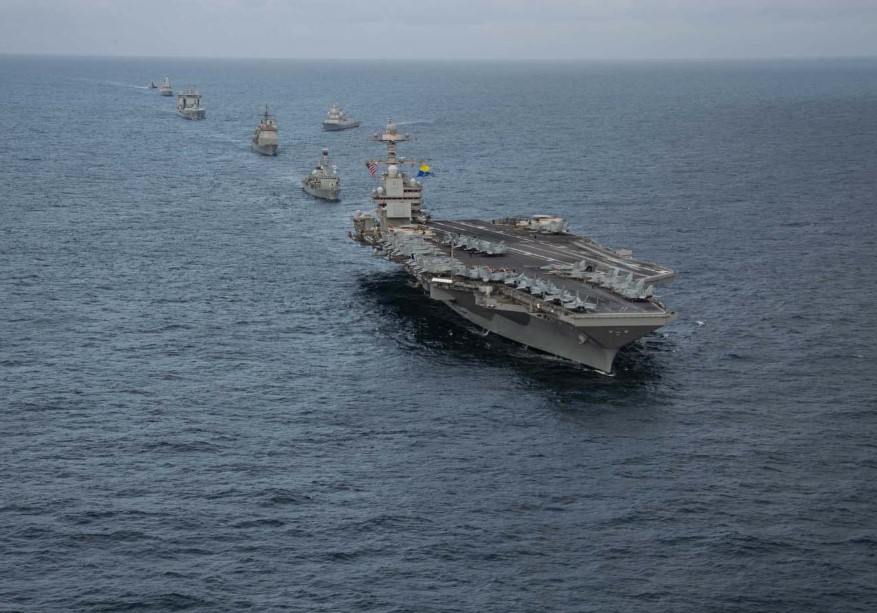 Submarine hunter HMS Northumberland, Type 45 destroyer HMS Defender and tanker RFA Tideforce are well-versed in escorting Britain's aircraft carriers, and joined the US Navy's Carrier Strike Group 12, whose flagship is the largest warship ever built, the goliath USS Gerald R Ford.
Alongside Norwegian stealth corvette, HNoMS Steil, Northumberland and Defender – with their respective prowess in underwater warfare and air defence operations – first posed as 'enemy' forces to test the allied task group before switching to protecting the aircraft carrier from anti-ship missile attacks and from air assaults from US Navy F/A-18s.
Northumberland and Defender worked closely with Norwegian frigate HNoMS Otto Sverdrup, cruiser USS Normandy and destroyers USS Thomas Hudner and USS Ramage to escort Gerald R Ford as a multinational air force descended onto the task group.
This marked the start of Exercise Viking Trident, a large air defence exercise that saw the Carrier Strike Group defend against multiple waves of 'hostile aircraft', including Norwegian F-35s, US Navy F/A-18s and US Air Force B1-B supersonic bombers.
"Having worked with the US Navy multiple times in the past, this is the first time I've personally provided an escort to a US Navy supercarrier," said Lieutenant Baily Denyer, one of Northumberland's Officers of the Watch.
HMS Northumberland is currently deployed on operations in the North Atlantic and High North, providing an operational advantage for the Royal Navy from seabed to space.