Arleigh Burke-class guided-missile destroyer USS Carl M. Levin enters service
The U.S. Navy commissioned its newest Arleigh Burke-class guided-missile destroyer USS Carl M. Levin (DDG 120), on 24 June in Baltimore.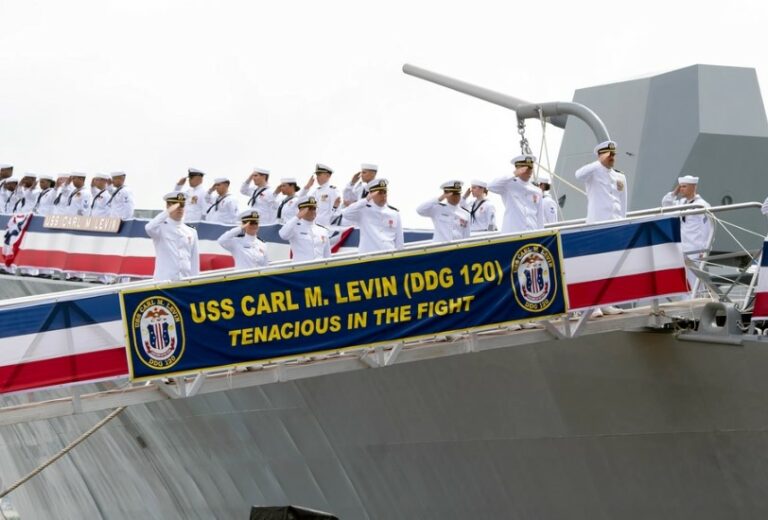 The USS Carl M. Levin is the first naval ship named in honor of Michigan's longest serving Senator, the late Carl M. Levin for his years of service as a longtime member and chairman of the Senate Armed Services Committee (SASC).
Levin began his career as an attorney, professor, and assistant attorney general in Michigan and was elected to the Senate in 1979. He was Michigan's first Jewish senator and the state's longest-serving senator, serving for 36 years before retiring in 2015. In the Senate, his top priority was the economic well-being of Michigan families.
As chairman of SASC, Levin focused on taking care of the men and women of the military and their families, supporting pay raises and improvements in treatment and other policies for wounded warriors.
The USS Carl M. Levin is 509.5 feet long and 59 feet wide, with a displacement of 9,496 tons. It will be homeported in San Diego. 
The ship, which will be homeported at Joint Base Pearl Harbor-Hickam, will be the 72nd Arleigh Burke-class destroyer to be commissioned, with 17 additional ships currently under contract for the DDG 51 program.
The vessel is configured as a Flight IIA destroyer, which enables power projection and delivers quick reaction time, high firepower, and increased electronic countermeasures capability for anti-air warfare.
The navy accepted delivery of the destroyer from General Dynamics Bath Iron Works in January this year.