Irving Shipbuilding cuts steel for Canadian Coast Guard's 1st AOPS
Irving Shipbuilding has cut steel for the seventh Arctic and Offshore Patrol Ship (AOPS), the first of two for the Canadian Coast Guard's fleet.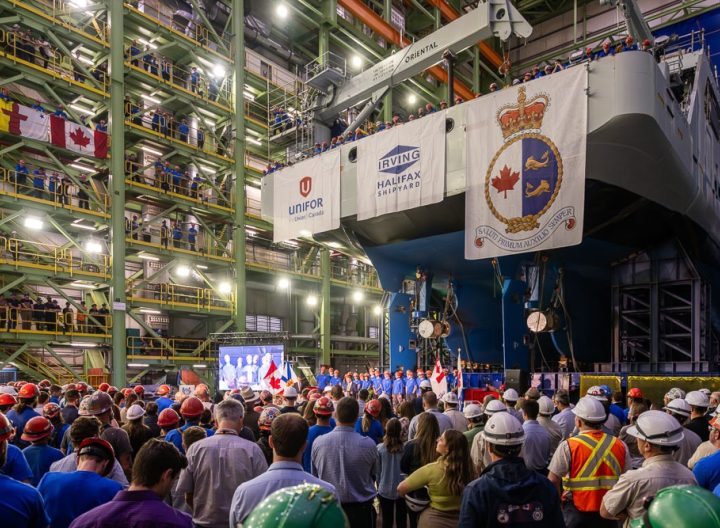 As informed, the steel-cutting was celebrated at the Halifax shipyard.
The Canadian Coast Guard's AOPS will be tasked with a wide range of missions. Both ships will operate as the Canadian Coast Guard's primary platform with increased capabilities to support fisheries enforcement on Canada's east coast, support search and rescue and icebreaking operations, while strengthening Canada's presence in the Arctic.
Under the National Shipbuilding Strategy (NSS), Irving Shipbuilding is constructing six AOPS vessels for the Royal Canadian Navy, two AOPS for the Canadian Coast Guard and 15 Canadian Surface Combatants (CSC) for the Royal Canadian Navy.
The first three AOPS have been delivered to the Royal Canadian Navy, with AOPS 4 to be delivered later this summer. The mega blocks of AOPS 5 will be joined in August 2023 and construction on AOPS 6 is continuing with the keel laying this month. Both AOPS 5 and 6 are on schedule for delivery in 2024 and 2025 respectively.
"The milestones we are achieving on AOPS today are a direct result of our workers' commitment to delivering on Canada's National Shipbuilding Strategy," said Dirk Lesko, President, Irving Shipbuilding.
"We are reestablishing Canada's shipbuilding industrial base right here in Halifax and Atlantic Canada. With the completion of each ship, there are significant learnings which deliver continuous improvement, efficiencies and shortened delivery schedules for the next vessel."
"The value of Canada's National Shipbuilding Strategy to Nova Scotians and Atlantic Canadians cannot be understated. We're committed to renewing our Navy and Coast Guard's vessel fleet to keep Canadians safe, while creating good-paying jobs that support families and help to strengthen and grow our communities. Halifax West and HRM benefit enormously from this significant strategic investment," Andy Fillmore, MP for Halifax and Parliamentary Secretary to the Minister of Innovation, Science, and Industry said.