HNLMS Friesland first to use Damen's high-capacity shore power
The Damen-built Dutch patrol vessel HNLMS Friesland has become the first vessel to utilize Damen Shiprepair Vlissingen's (DSV) high-capacity shore power supply upon arrival at the yard's Drydock 1.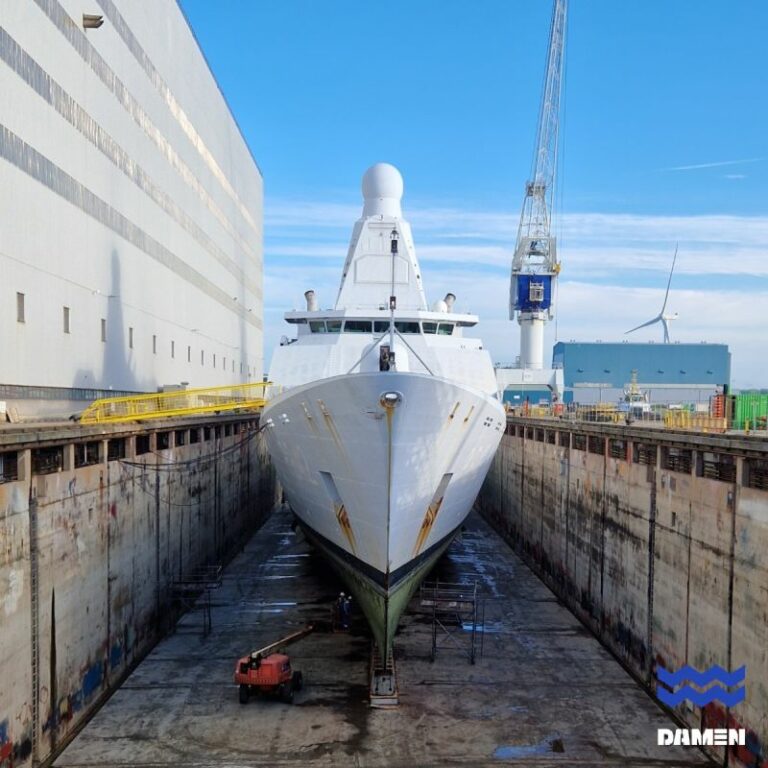 This historic achievement occurred in the presence of key stakeholders, including the Directorate of Material Maintenance (DMI), North Sea Port, and real estate manager KSG.
The adoption of this innovative shore power supply marks a significant step towards reducing maritime emissions and optimizing yard capacity without relying on conventional diesel generators.
DSV's shore power supply system offers a clean and efficient alternative, aligning with global efforts to combat climate change and reduce the environmental footprint of the maritime industry, Damen said.
"What started as an idea to implement this improved facility over a year ago is now a reality. Through a transformer, the existing 10KV cable at the shipyard, which was originally used for drydock pumps only now supplies 1200A where in the dock before only 350A could be supplied. The shipyard's fixed dock pumps are only used during the process of drydocking a ship. Therefore, after a ship is docked, this electrical capacity remains available for other potential applications. This opportunity is now being gratefully utilised, optimising the available capacity at the shipyard," Damen said.
The current generation of ships demands more electrical power and the shipyard had to increasingly resort to diesel generators. This solution not only reduces emissions but also cuts down mobilisation costs for temporary generators and enhances operational reliability. The latter is mainly due to the minimal maintenance required of moving parts in the new solution.
HNLMS Friesland arrived at the yard on August 30 for maintenance.
HNLMS Friesland is a Holland-class offshore patrol vessel, and it's part of the Royal Netherlands Navy. It's a Holland-class offshore patrol vessel, and its primary role is to patrol and safeguard the territorial waters and exclusive economic zone of the Netherlands. The ship is named after the province of Friesland, which is one of the northern provinces of the Netherlands. It was built by Damen Schelde Naval Shipbuilding as part of a series of four ships in a EUR 46.8 million deal. It entered into service in 2013.
These patrol vessels are equipped for various tasks, including maritime surveillance, law enforcement, search and rescue, and combating illegal activities at sea.