Keel laid for Canadian Navy's 2nd JSS HMCS Preserver
Seaspan Shipyards (Seaspan) has hosted a ceremonial keel laying event for the Royal Canadian Navy's (RCN) future HMCS Preserver.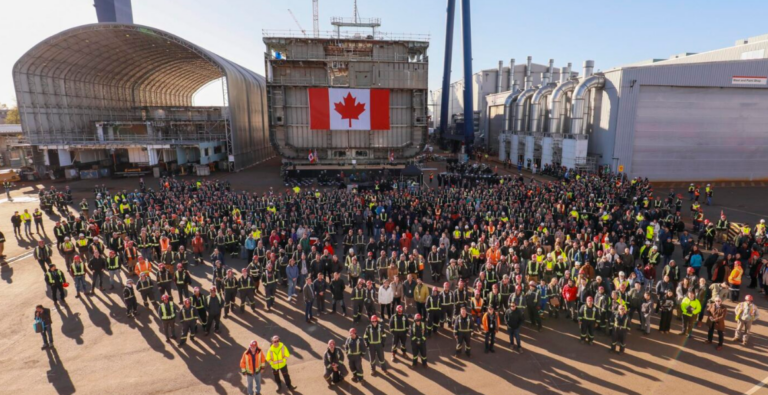 The keel laying is a significant milestone in a ship's construction, during which a coin is placed near the keel, where it will remain for the duration of the ship's life.
"…Seaspan Shipyards has taken another critical step towards providing the Royal Canadian Navy with the ships they need to go into harm's way and ensure Canada's security and sovereignty in an increasingly unstable geopolitical environment," said John McCarthy, CEO, Seaspan Shipyards.
"…keel laying ceremony marks the significant progress being made for the Royal Canadian Navy's Protecteur-class," said Rear-Admiral Steve Waddell, Deputy Commander of the Royal Canadian Navy.
"Through Canada's National Shipbuilding Strategy we continue to grow the naval fleet and bolster its capabilities. Bravo Zulu to those who have contributed to all of the work on this tremendous project."
The future HMCS Preserver is the second of two Joint Support Ships being built by Seaspan as part of the NSS. Through incorporating lessons learned on the design and construction of JSS1, the second Joint Support Ship is tracking ahead of schedule and efficiencies are seen throughout the build process.
With a length of 173.7 metres, HMCS Preserver will join HMCS Protecteur as the longest naval ships ever to be built in Canada.
HMCS Protecteur and HMCS Preserver will replace the former Protecteur-class Auxiliary Oiler Replenishment vessels. In addition to providing critical at-sea replenishment, these multi-purpose warships will also be capable of seamlessly integrating with any Canadian or allied naval task group, and will significantly extend the range and endurance of these groups through the provision of fuel, ammunition, aviation support, food, spare parts, exercise and gym facilities, and medical and dental care.
HMCS Preserver is scheduled for delivery in 2027.
HMCS Preserver is the fifth ship to be designed and built by Seaspan under the NSS. In 2020, Seaspan completed the delivery of CCGS John Cabot, the third and final Offshore Fisheries Science Vessel built for the Canadian Coast Guard and marked the first full class of vessel to be delivered under the NSS. 
Construction is also underway on the Canadian Coast Guard's Offshore Oceanographic Science Vessel, and progress is being made to prepare for the start of construction on Canada's new heavy Polar Icebreaker, the first to be constructed in Canada in 60 years.