VIDEO: EPS splashes USCG's first Heritage-class offshore patrol cutter
Eastern Shipbuilding Group has christened and launched USCGC ARGUS (WMSM-915), the U.S. Coast Guard's first Heritage-class offshore patrol cutter (OPC).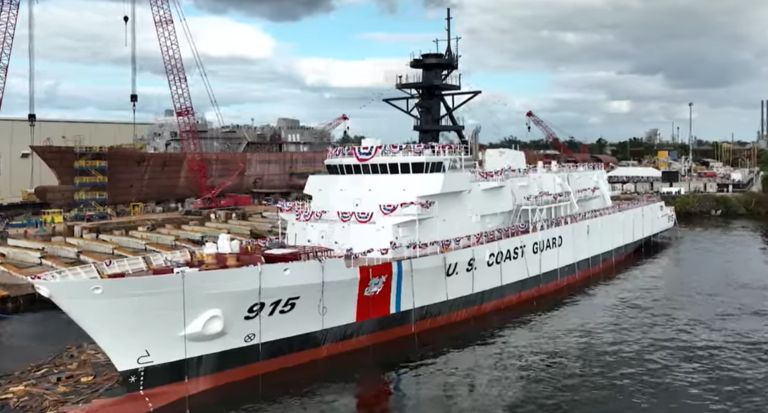 The ceremony was held at Eastern's Nelson St. Shipyard on October 27. Ship Sponsor, Captain (Ret.) Beverly Kelley, had the honor of christening the vessel.
In her distinguished military career, Captain (Ret.) Kelley was the first woman to command a U.S. military vessel as the Commanding Officer of the 95-foot patrol boat, USCGC CAPE NEWAGEN and was the first woman to command both a medium endurance cutter and a high endurance cutter in USCGC NORTHLAND and USCGC BOUTWELL respectively.
"The Offshore Patrol Cutter (OPC) is one of the Service's highest acquisition priorities and is absolutely vital to recapitalizing the capability provided by our legacy fleet of 210-foot and 270- foot Medium Endurance Cutters (MEC)," said Adm. Linda Fagan.
"It's truly a monumental occasion in enhancing our national security as Eastern Shipbuilding Group's Nelson Shipyard officially christens and launches the U.S. Coast Guard Offshore Patrol Cutter ARGUS (WMSM-915). Over the past few decades the need for our Coast Guard as grown globally with operations spanning the Artic, Antarctic, Middle East and Indo-Pacific, all while it continues to protect our valuable United States shoreline. This first-in-its-class vessel is a testament to the great coordination between Eastern Shipbuilding and the Coast Guard that now gives the service a much needed upgrade," Senator Rick Scott said.
The OPC is designed to conduct an array of missions including law enforcement, drug and migrant interdiction, search and rescue, disaster relief, and other homeland security and defense operations in support of the nation's maritime security and border protection.
The OPC design includes the capability of carrying an MH-60R or MH-65 helicopter and three operational over-the-horizon small boats.  The vessel is also equipped with a Command, Control, Computers, Communications, Cyber, Intelligence, Surveillance, and Reconnaissance (C5ISR) suite that will greatly enhance the U.S. Coast Guard's mission capabilities.
The first OPC is named for the Revenue Cutter Argus, which was one of the first 10 ships assigned to the U.S. Revenue Cutter Service.