Norwegian Coast Guard's new Jan Mayen-class vessel named
The Norwegian Minister of Fishery and Oceans, Cecilie Myrseth, named the Norwegian Coast Guard's new Jan Mayen-class vessel KV Bjørnøya at Vard Langsten in Tomrefjord, Norway.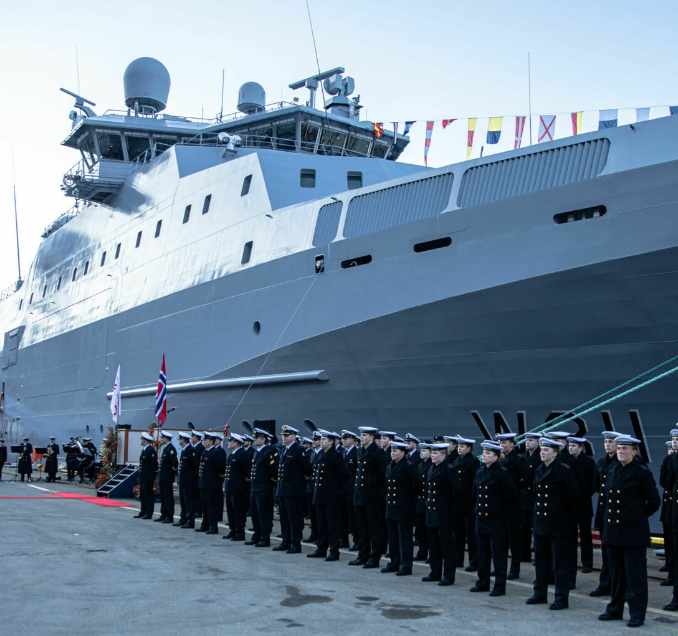 As informed, the naming ceremony took place on November 1. The three new Coast Guard vessels KV Jan Mayen, KV Bjørnøya and KV Hope is built by VARD, and will replace the vessels in the Nordkapp class, built in the 1980s. The acquisition of the Coast Guard vessels is one of the largest defense procurements made in the maritime sector in Norway ever with a cost framework of NOK 7.2 billion ($645 million). The Norwegian Defence Material Agency is responsible for the procurement.
The vessels are built in accordance with strict environmental and emission requirements, including future emission requirements that have been announced to be introduced.
Last year, the Norwegian Coast Guard carried out over three thousand missions, both military and civilian. Among other things, close to 700 assignments in support of the police, and just as many in support of the Norwegian Coastal Administration. 
"Our mission in the Norwegian Defence Materiel Agency is to equip the Armed Forces with relevant and up-to-date materiel, and together we will support the development and operation of the Coast Guard vessel Bjørnøya throughout its operational service for Norway," said Investment Director in Defence Materiel, Major General Øyvind Kvalvik.
The new Jan Mayen-class vessels are developed for worldwide operations in all weather and sea conditions, both inshore and offshore. Specially designed to withstand operations in demanding arctic areas, the new coast guard vessels have ice-strengthened hull and ice-class notation and built according to the latest requirements for such specialized vessels.
The vessels will operate with support from their own helicopter. Requirements are set for the vessels' ocean-going characteristics, strength, seagoing characteristics, helicopter capacity, ice handling characteristics, sensor, and communication capacity.