US Navy's IKE Carrier Strike Group arrives in Middle East
The Dwight D. Eisenhower Carrier Strike Group (IKECSG) arrived in the Middle East as part of the increase in regional posture on November 4.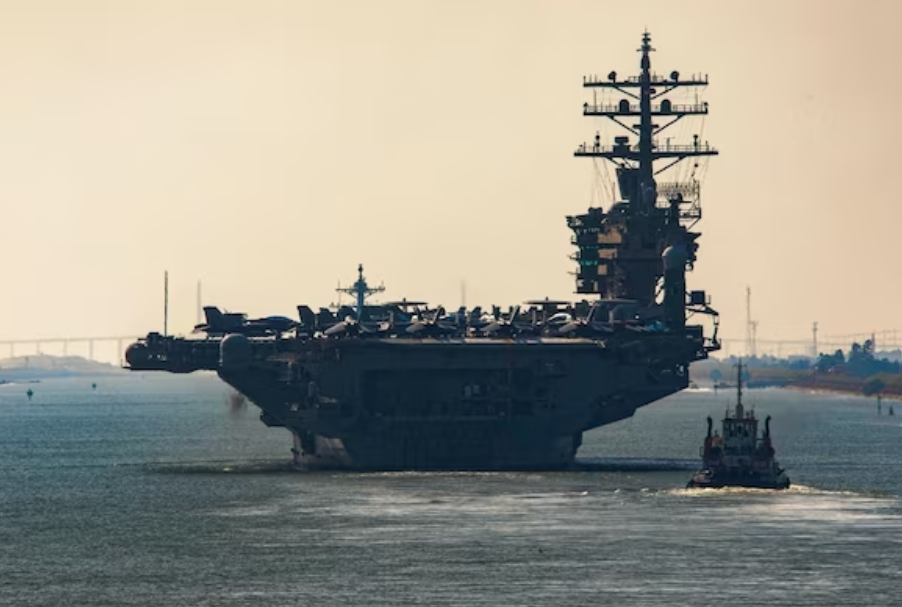 The strike group is commanded by Carrier Strike Group (CSG) 2 and comprised of flagship aircraft carrier USS Dwight D. Eisenhower (CVN 69), guided-missile cruiser USS Philippine Sea (CG 58), guided-missile destroyers USS Mason (DDG 87) and USS Gravely (DDG 107) of Destroyer Squadron (DESRON) 22, Carrier Air Wing (CVW) 3 with its nine squadrons, and the Information Warfare Commander.
Dwight D. Eisenhower, Philippine Sea, and Mason entered the Red Sea after transiting from the Mediterranean Sea through the Suez Canal, on November 4.
CSGs bring to the region additional aviation and naval assets, to boost maritime capability to U.S. 5th Fleet.
"The arrival of IKECSG to Middle East region displays our speed and agility to flex as our nation's leaders determined a balance of maritime capability in support of national security priorities," said Rear Adm. Marc Miguez, commander, CSG-2, IKECSG.
"The strike group brings an unparalleled combat superiority to CENTCOM and we will be leveraging our presence in the theater to enhance regional security and operate alongside our allies and partners."
IKECSG units departed their homeports of Norfolk, Virginia, and Mayport, Florida, on Oct. 13 & 14 for a scheduled deployment.
Earlier on, the US Navy revealed its plans to deploy USS Dwight D. Eisenhower, after USS Gerald R. Ford Carrier Strike Group arrived in the Eastern Mediterranean Sea on 10 October.
The announcement comes in the wake of the ongoing conflict in Gaza between Israeli Defence Forces (IDF) and Palestinian military group Hamas.