Electronic warfare program for Royal Navy warships hits a milestone
The critical design review (CDR) for the Maritime Electronic Warfare System Integrated Capability (MEWSIC) has been approved, meaning it can now proceed into manufacture, testing and acceptance.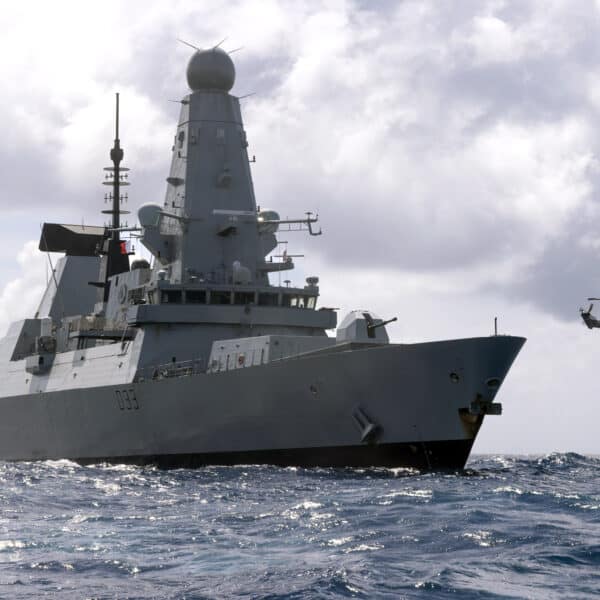 A new electromagnetic warfare system that will enhance Royal Navy warships has passed a major milestone.
Part of the Royal Navy's Maritime Electronic Warfare Programme (MEWP), which will provide an enhanced defensive capability against Anti-Ship Missiles, MEWSIC increment 1 is managed by Defence Equipment & Support and being developed by prime contractor Babcock in conjunction with Elbit Systems UK.
Once operational, MEWSIC will allow for increased detection and identification of radar signals over a greater range than currently possible. This will aid faster operational decision-making, enhanced situational awareness and improved ship protection.
"The Royal Navy has invested in an ambitious programme to deliver modern electronic warfare capabilities to its surface warships that will allow them to maintain the UK's commitments around the world," Matt Stratton, Deputy Director of Naval Equipment System Acquisition, said.
"Achieving the Critical Design Review milestone is visible confirmation of the Royal Navy's, DE&S', Babcock's and Elbit System UK's intent to deliver on that promise."
MEWSIC will see the next generation of Radar Electronic Support Measure (RESM) and EW Command and Control (EWC2) equipment being installed on Type 45 destroyers, Queen Elizabeth aircraft carriers, and the Type 26 and Type 31 frigates being built at Govan and Rosyth shipyards, respectively, in Scotland.
"Completion of the Critical Design process is the culmination of several months of collaborative effort between UK MOD and industry teams to mature and refine the MEWSIC solution. It gives MOD, and the Navy in particular, a high level of confidence that we are on track to deliver the highly capable system required to protect the fleet from both current and future threats," Phil Game, DE&S' Head of Maritime Combat Systems, said.
The multi-disciplinary MEWSIC team includes engineers and project managers from Babcock collaborating with Elbit Systems UK's employees at its new assembly, integration and test facility in Bristol.
"We are immensely proud to have achieved this milestone, to have created a number of high-tech jobs, and to have established a UK EW capability for the Royal Navy, and look forward to the next phase of this project," Martin Fausset, CEO Elbit Systems UK, said.