The US Navy has christened its newest Independence-variant littoral combat ship (LCS), the future USS Cincinnati (LCS 20).
The christening ceremony for the navy's 20th LCS took place in Austal's Mobile ship manufacturing facility, Alabama, on May 5.
"The future USS Cincinnati is a symbol of the strong connection between the people of Cincinnati and the Navy and Marine Corps team," Richard V. Spencer, Secretary of the Navy, said.
The newbuild is the fifth US Navy ship to honor Ohio's third largest city.
LCS is a modular, reconfigurable ship, designed to meet validated fleet requirements for surface warfare (SUW), anti-submarine warfare (ASW) and mine countermeasures (MCM) missions in the littoral region. An interchangeable mission package is embarked on each LCS and provides the primary mission systems in one of these warfare areas.
Using an open architecture design, modular weapons, sensor systems and a variety of manned and unmanned vehicles to gain, sustain and exploit littoral maritime supremacy, LCS provides US joint force access to critical areas in multiple theaters.
The LCS class consists of two variants, the Freedom variant and the Independence variant, designed and built by two industry teams.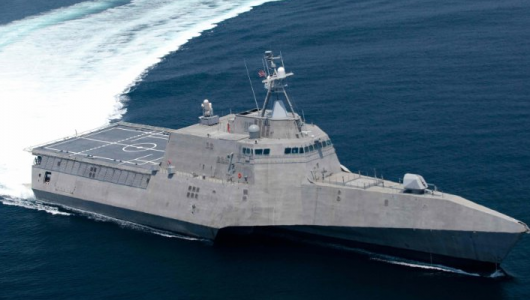 The Freedom variant team is led by Lockheed Martin (for the odd-numbered hulls), while the Independence variant team is led by Austal USA (for LCS 6 and the subsequent even-numbered hulls).
The USS Cincinnati will be the tenth of 15 Independence-variant LCSs Austal USA has under contract with the US Navy at a combined value of over $4.5 billion.
In 2018, Austal has delivered two LCSs to the navy, with another five under construction. LCS 18 is preparing for sea trials as LCS 20, 22, 24 and LCS 26 are following close behind. Additionally, Austal has two more LCSs in a pre-construction phase, LCS 28 and LCS 30.
Related news
List of related news articles