Russian Navy commissions 2nd Project 18280 ship Ivan Khurs
The Russian Navy has commissioned Ivan Khurs, the navy's second Project 18280 intelligence-gathering ship.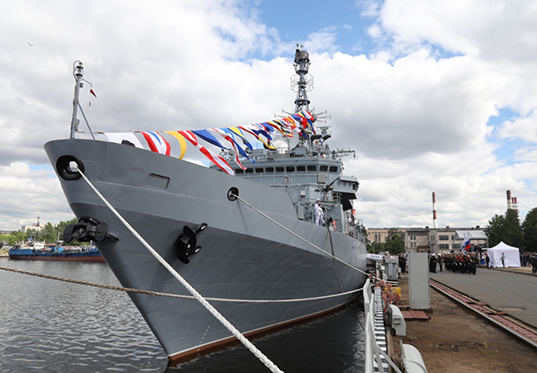 The commissioning ceremony for the newbuilding was held at St. Petersburg's Severnaya Verft shipyard on June 25, 2018.
The vessel, designed to provide signals intelligence (SIGINT), electronic warfare and fleet management, will be part of the Black Sea Fleet, according to Russian defense ministry.
Speaking at the ceremony, Vice-Admiral Viktor Bursuk said that the Black Sea Fleet is actively replenished, with the intelligence-gathering ship Ivan Khurs being "a worthy next replenishment." He added that the Black Sea Fleet is expected to welcome the newest Project 11356 frigate Admiral Makarov in August-September.
Launched in May 2017, Ivan Khurs is the second of four planned vessels in the Yury Ivanov-class. The state tests for the vessel were completed earlier this month.
Named after Russian Vice-Admiral Ivan Khurs, the ship features a length of 95 meters, a width of 16 meters and a displacement of 4,000 tons. In addition, Ivan Khurs has a cruising range of 8,000 nautical miles and is crewed by 131 sailors.