NY Naval Militia commissions new landing-craft style patrol boat
The New York Naval Militia welcomed a new 35-foot long, landing-craft style boat-into its fleet of patrol boats on Tuesday, August 7.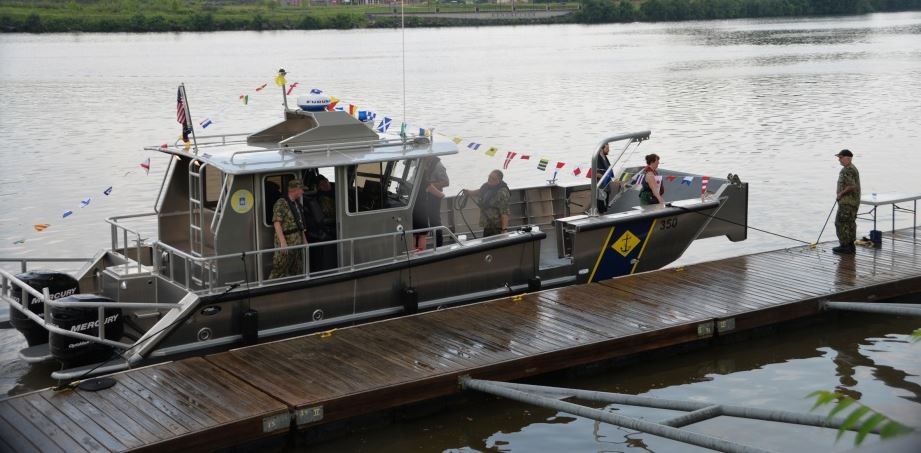 The "LC-350" – LC for "landing craft" and 350 for the length of the boat – was accepted into service during a short ceremony at Albany's Jennings Landing park on the Hudson River.
The boat can deliver three tons of emergency supplies, a vehicle, or 27 personnel to beaches or shorelines along Long Island or the Hudson River during flooding or other emergency situations.
The boat's bow is a ramp which can be dropped to allow access to the shore by people, or vehicles.
The LC-350 provides a new level of capability to New York's Military Forces, said Naval Militia Rear Admiral Timothy J. Zakriski, the commander of the Naval Militia. Naval Militia forces can now deliver cargo and people directly to a shoreline during flooding or if roadways are unusable, he said.
The boat can also serve as a patrol vessel when necessary.
The New York Naval Militia is composed of 2,800 current and former Navy, Marine Corps and Coast Guard members who agree to serve on state active duty when called by the state of New York. They put the skills they've honed in federal military service to work for New York.
The boat was christened by New York Division of Military and Naval Affairs employee Lisa Bogardus. Bogardus was selected because she played a key role in applying for the federal port security grant which pays for three-quarters of the boat's $317,000 cost, according to Naval Militia Commander Don McKnight, the commander of the Military Emergency Boat Service which operates New York's ten patrol boats.
After Bogardus christened the boat, McKnight commanded three-man crew to "bring LC-350 to life" and the Naval Militia crews boarded the vessel, turned on its spotlights, fired up the two Mercury Optimax 250 horsepower engines, raised the flag and got ready to get underway.
Landing craft style 
The New York Naval Militia began seeking to acquire a landing craft style vessel six years ago after Superstorm Sandy hit New York, McKnight said. It became clear that there was a need for a boat that could be used to deliver relief supplies and personnel along New York's 127 miles of coastline and the 150 miles of Hudson River from New York City to Troy, N.Y.
The New York Naval Militia will initially base the vessel in Albany and then relocate it for mission support down the Hudson River this fall near Indian Point.
The boat can also be trailered to any location in the state when needed.
The boat was built by the William E. Munson Co. of Burlington, Washington.
The 35 foot vessel weighs 15,000 pounds and has a draft of 30 inches which allows it to work close to shore. The crew of three personnel can beach the boat at unimproved landing sites to load or off-load personnel, vehicles or supplies over the bow ramp to otherwise inaccessible locations.
It is powered by twin Mercury Optimax 250HP outboard engines. The landing craft can deliver up to 3 tons of equipment or supplies with a 7.5 foot wide bow door and 17 foot length of cargo area forward of the wheel house.
The LC-350 has a catamaran twin- hull design which increases stability. It also has the ability to pivot 360 degrees when needed.
The boat is manned by a crew of three.
Other Munson Boat landing crafts are in the initial phases of procurement for the New York State Police. The Towns of Oyster Bay and Brookhaven also have Munson Boats that they use in their harbors on Long Island.