Papua New Guinea commissions Austal-built Guardian patrol boat HMPNGS Ted Diro
The Papua New Guinea Defence Force commissioned the first Guardian-class patrol boat HMPNGS Ted Diro in a ceremony on February 1.
The ceremony was attended by the Chief of the Australian Defence Force and the ship's company of the Royal Australian Navy's Armidale-class patrol boat HMAS Wollongong.
Ted Diro is the first of 21 Guardian-class patrol boats to be gifted to 12 Pacific Island countries and Timor-Leste under the Pacific Maritime Security Program, the successor to the original Pacific Patrol Boat Program in which Australia gifted vessels to Pacific Island nations between 1987 and 1997.
The larger and more capable Guardian-class can support mixed-gender crewing and will assist nations to combat a wider range of maritime security issues, including transnational crime and illegal fishing.
The 39.5 meter steel hulled patrol boats are built by Austal under a contract from May 2016, with a contract option in April 2018 taking the program to 21 vessels valued at AU$335 million.
In addition to the gifting of 21 vessels, the Pacific Maritime Security Program includes contracted region-wide fixed wing aerial surveillance, ongoing sustainment and training support, the continuation of Defence's maritime adviser network, and infrastructure upgrades to support the safe and secure berthing of the vessels.
Papua New Guinea's former Pacific Patrol Boat, ex-HMPNGS Rabaul, arrived in Australia for environmentally responsible disposal in October 2018, and NUSHIP Ted Diro was handed over to Papua New Guinea in November.
Ted Diro is named after the first Commander of the Papua New Guinea Defence Force post-independence.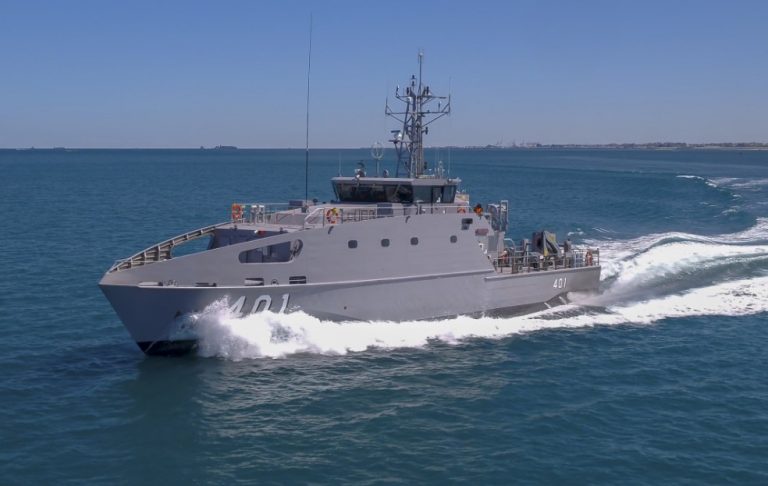 More than $5 million worth of works have commenced at the Lombrum Naval Base in Manus Province to improve the wharf and shore-based infrastructure that will support Papua New Guinea's four patrol boats.
Chief of the Australian Defence Force, General Angus Campbell said the commissioning of Ted Diro was an important milestone in the long and valued relationship shared by Australia and Papua New Guinea.
"The Royal Australian Navy and Papua New Guinea Defence Force Maritime Element have a strong and enduring history of maritime security cooperation, which will continue to deepen through the Lombrum Joint Initiative," General Campbell said.
"The Lombrum Joint Initiative will enhance PNG's ability to protect its sovereign territory and manage its borders through a broad program of mentoring, tailored training, infrastructure development, and shared facilities at the Papua New Guinea Defence Force base."