USS Abraham Lincoln links up with USS Kearsarge in Arabian Sea
Ships from the Abraham Lincoln carrier strike group (ABECSG) met up with ships from the Kearsarge amphibious ready group (KSGARG) in the Arabian Sea for two days of operations.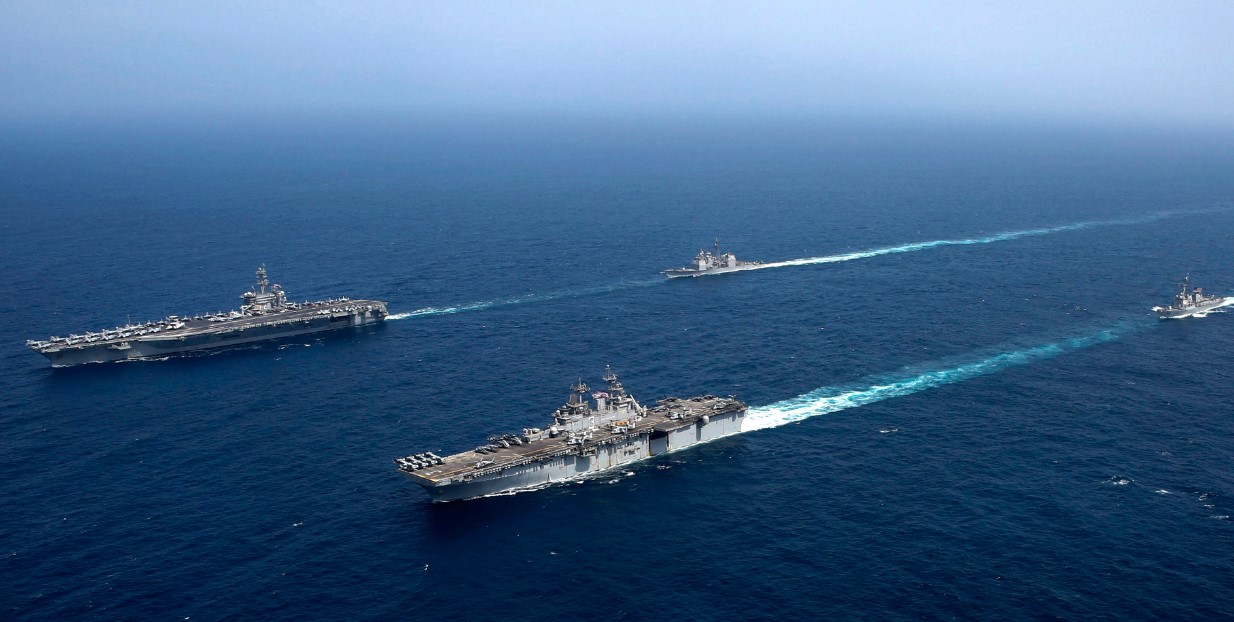 The joint operations took place on May 17 and 18.
ABECSG and KSGARG conducted numerous joint training evolutions designed to improve operational tactics in several warfare areas. Exercises included air-to-air training, steaming in formation and maneuvering, and establishing joint communications to rapidly enable a command and control environment.
Super Hornets from Carrier Air Wing (CVW) 7, embarked on the Nimitz-class aircraft carrier USS Abraham Lincoln (CVN 72), conducted a dissimilar air combat training (DACT) exercise with AV-8B Harriers embarked on the Wasp-class amphibious assault ship USS Kearsarge (LHD 3). With the Super Hornets simulating opposing forces, the Harriers were allowed a rare chance to train with a capable and stealthy adversary.
Additionally, Super Hornets from CVW 7 and Harriers and attack helicopters from the Kearsarge conducted a joint close air support (CAS) exercise.
During the training, the Maritime Raid Force of the 22nd MEU conducted visit, board, search and seizure (VBSS) training, as well as a fast-roping exercise with helicopters and the Arleigh Burke-class guided missile destroyer USS Bainbridge (DDG 96).
CH-53E Super Stallion helicopters, embarked on Kearsarge with the 22nd MEU, completed deck landing qualifications (DLQs) on Abraham Lincoln and Bainbridge. MV-22 Ospreys, also with MEU 22, also had an opportunity to land on the flight deck of Abraham Lincoln.
"The exercises and training we are doing with Amphibious Squadron Six, the 22nd Marine Expeditionary Unit and USS Kearsarge are aimed towards increasing our lethality and agility to respond to threats, and deterring destabilizing actions in this important region," said Rear Adm. John Wade, commander, Carrier Strike Group 12.
The Kearsarge ARG consists of the amphibious assault ship USS Kearsarge (LHD 3), the amphibious transport dock ship USS Arlington (LPD 24), the dock landing ship USS Fort McHenry (LSD 43).
Related