US Navy fields new Mark VI patrol boats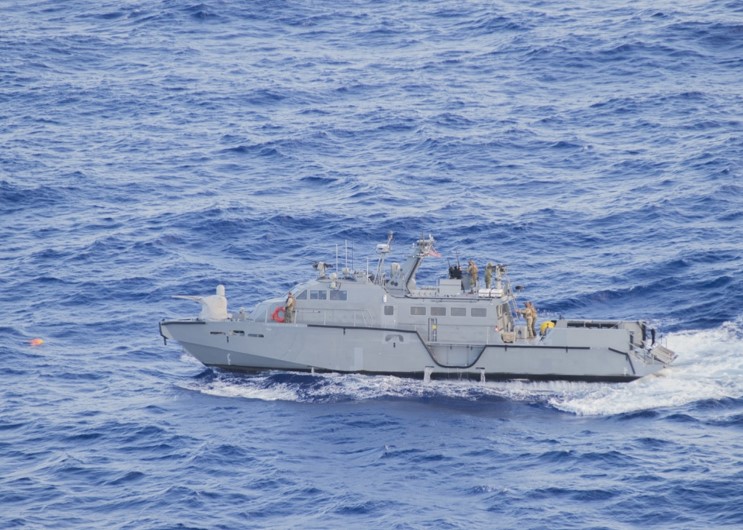 Article by: Peter Ong
---
The US Navy's Coastal Riverine Forces (CRF) – comprised of two Coastal Riverine Groups based in Virginia Beach, Virginia, and Imperial Beach, California – received delivery of its first new Mark VI patrol boat in 2014.
Built by SafeBoats International in Bremerton, Washington, the twelve MK VI patrol boats are used to Coastal Riverine Force to conduct riverine, port, harbor, bay, and littoral combat patrols and escorts in the Pacific Ocean Region.
Lieutenant Kara Handley, US Navy's public affairs officer for Coastal Riverine Group One (CRG1) explained the role of the Mark VI patrol boat.
"The active duty Coastal Riverine Squadrons are located in Virginia Beach and Imperial Beach, California. Reserve squadrons conduct operations from a number of stateside locations. Deployments are to US 5th Fleet, US 6th Fleet, and US 7th Fleet.
"In addition to providing a core capability to defend designated high-value assets throughout the green and blue-water environment," continued Lt. Handley, "members of Navy Expeditionary Combat Command's Coastal Riverine Force conduct missions as part of embarked security teams, aircraft security teams, port and maritime infrastructure security, and landside security. Seven Coastal Riverine Squadrons comprise the Navy Expeditionary Combat Command's Coastal Riverine Force.
"The MK VI is the largest platform in the Coastal Riverine Force (CRF). The MK VI was procured by the Navy to fulfill the requirement for an armored boat with greater range, more lethal firepower and sea keeping capabilities that exceeded the Navy Coastal Riverine Force's small boat capabilities. As our missions have changed throughout the years, the procurement of our crafts has been adapted to the requirements of current missions.
"According to standard operating procedures, MK VIs operate in pairs, day and night."
In addition to the MK VI patrol boat, the CRF uses 25′ force protection small built by SafeBoats, Intl. and 34′ patrol boats force protection large produced by SeaArk Marine, Inc. to conduct current operations. The 25′ SafeBoats and 34′ patrol boat platforms preceded the MK VI and remain part of the inventory today.
"CRF has also historically used Riverine Assault Boats (RABs), Riverine patrol boats (RPBs) and Riverine Command Boats (RCBs). However, the CRF no longer conducts purely riverine missions and no longer has any of these platforms. The platforms are and were effective for assigned operations."
The 85-foot Mark VI patrol boat overview
Propelled by waterjets and twin MTU 16V 2000 M94 diesel engines with 2,600 horsepower each (5,200 horsepower total), the eighty-five-foot long MK VI patrol boat (PB) has a range of 600+ nautical miles, a cruising speed of 25+ knots with a sprint speed of 35+ knots, and a draft of 4.5 feet, making it ideal for shallow water operations. In fact, two MK VIs completed a 500nm transit to Micronesian island of Yap, about 456 nautical miles from Guam on December 28-29, 2018, proving the endurance and reliability of the Mark VI. The engines can run on either marine grade diesel fuel or JP-5 aviation fuel. All of CRF's MK VIs are painted gray without any digital or splinter camouflage patterns.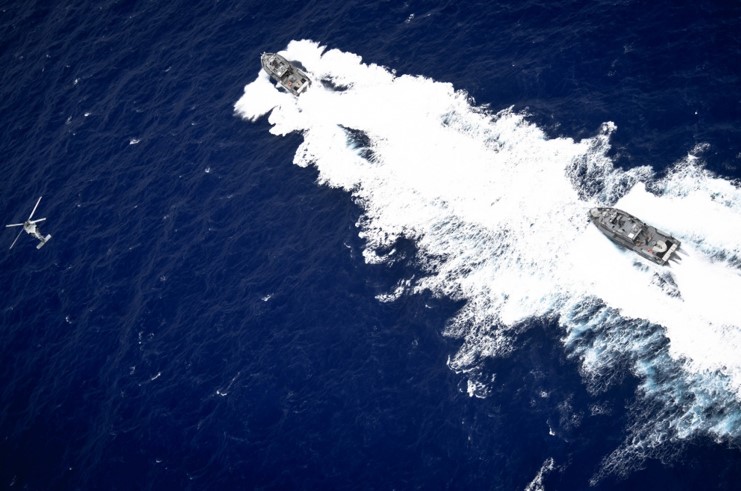 Well-armed for their 85-foot size, the CRF's MK VIs are gunboats and currently do not have Griffin or SPIKE missiles installed. As of May 2019, weapons systems include:
· 2X MK38 Mod 2 or 3 (25mm) gun weapon systems (GWSs). A remote-controlled and operated stabilized chaingun with electro-optical sensor integrated with a fire control system in a rotating turret for all weather conditions, day or night, engagement. Effective firing range is 2.5 kilometers with 168 ready rounds. These cannons can be controlled and fired from safely inside the ship's superstructure. The MK38s are removable to allow for more open deck space forward and aft of the cabin or for mounting the MK 50s.
· 4X MK 50 Mod 0 GWSs. A stabilized small arms mount (.50cal M2HB) for mounting on the fore & aft deck foundations and/or fore & aft roof foundations.
· 6X heavy machine gun foundations for any of the following weapons:
o MK-19 (40mm automatic grenade launcher)
o M2HB (.50 cal (12.7mm) heavy machine gun)
o MK44 GAU-17 (7.62mm minigun)
o M240 (7.62mm medium machine gun)
o M249 SAW (5.56mm light machine gun)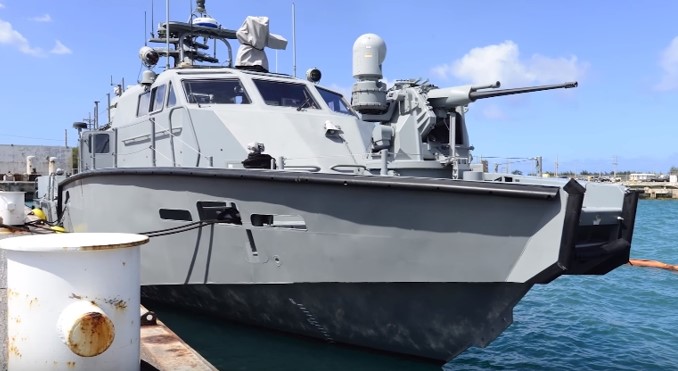 The MK VI PBs' powerful guns, ranging from 5.56mm to 25mm, offer superior firepower to destroy floating mines and deal with small surface boats and slow aerial threats. LRAD non-lethal acoustic devices are also found aboard MK VIs.
MK VIs have the following C4ISR (command, control, communications, computers, intelligence, surveillance and reconnaissance) assets:
Tactical radios including very high frequency (VHF), high frequency (HF) and ultra high frequency (UHF)
· Satellite communications (SATCOM)
· Data exchange network (Link 16)
· Command & control situational awareness system (Blue Force Tracker [to locate the positions of friendly and enemy assets])
· Combat identification system [Interrogation Friend/Foe]
· Electro optical (EO)/infrared(IR) sensor [sensors and cameras]
· Unmanned vehicle command & control system [remote control]
· Intercom system
According to NAVSEA, the weapons and C4SIR government furnished equipment (GFE) cost about $6 million for each MK VI in FY2014 dollars. Each boat in FY2014 cost the US Navy approximately $8.6 million, excluding the GFE.
NAVSEA stated that the MK VI patrol boats' missions in 2014. "The MK VI mission includes: Providing the capability to persistently patrol shallow littoral areas beyond sheltered harbors and bays for the purpose of force protection of friendly and coalition forces and critical infrastructure; the mission includes high value unit (HVU), shipping escort, and visit, board, search, and seizure (VBSS) operations, theater security cooperation (TSC), and security force assistance (SFA)."
When asked about the use of the MK VI patrol boats for US Navy special operations missions, Lt. Handley said, "[US] Navy SEALs have not ridden in our Mk VI for a specific mission to date [as of May 2019]; however, the Mk VI is reconfigurable for a variety of theater security missions including VBSS operations and explosive ordnance disposal. "For example, in March 2018, sailors assigned to a Coastal Riverine Squadron operated with Explosive Ordnance Disposal Mobile Unit 5 and exercised their capabilities, launching and recovering combat rubber raiding craft from the MK VI."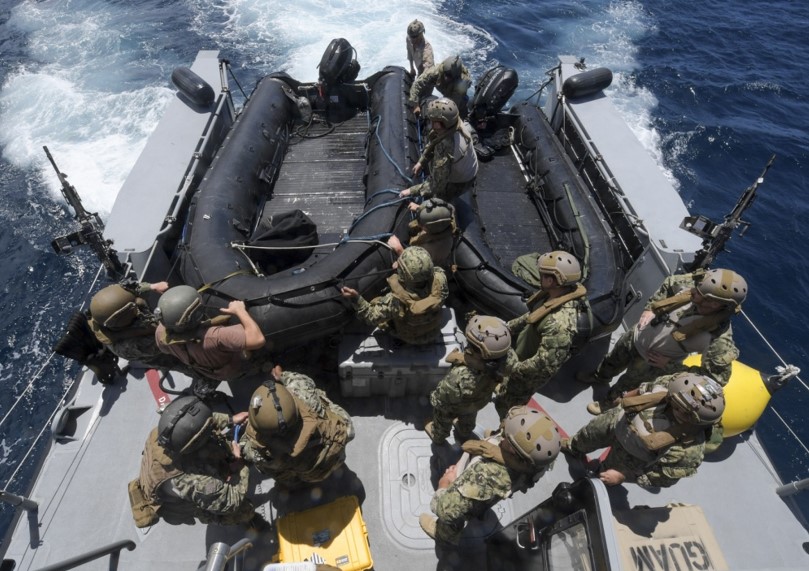 To achieve this, "The MK VI PB has seating for five crew in the pilot house and thirteen passengers in the main deck cabin for a total of eighteen  seats. All seats are shock mitigating type seats."
Normal crew complement for a MK VI patrol boat are two crews with five personnel each, plus eight passengers who are normally VBSS teams (18 personnel total). The crew of ten usually consists of one captain, two coxswains, two engineers, two weapon console operators, and two gunners.
For accommodation facilities, the MK VI patrol boats have a galley for food preparation and storage. The gallery has a refrigerator/freezer, microwave, sink, coffeemaker, countertop, two separate tables, padded bench seating, shelves and storage cabinets, and storage for trash, thus allowing the Patrol Boat to travel for a time away from port or mothership. There is berthing space for six personnel. Lt. Handley noted that MK VI's range depends on speed, fuel, and water supply.
Small, usually handheld, unmanned surface, underwater, and aerial vehicles can deploy from the MK VI patrol boat's open deck and remote-controlled from inside the cabin, thus allowing for intelligence, surveillance, and reconnaissance of the surrounding areas and assist in the detection of mines and explosives. There is no deck boat crane to assist with the handling of larger drones although all 85-foot MK VI PBs have a walk-down stern platform flanking the inflatable boat ramp and a walk-around platform surrounding the cabin to assist in the recovery and deployment of personnel, unmanned vehicles and associated items of interest.
Ballistic armor protection against small arms fire can be added to the cabin and over vital mission and engineering spaces although in 2014, NAVSEA declined to comment on if the armor has been incorporated.
All MK VI PBs can be transported across the open ocean to the required location inside the floodable well decks of large US Navy amphibious ships. Two MK VIs can fit neatly inside the well deck of large US amphibious ships.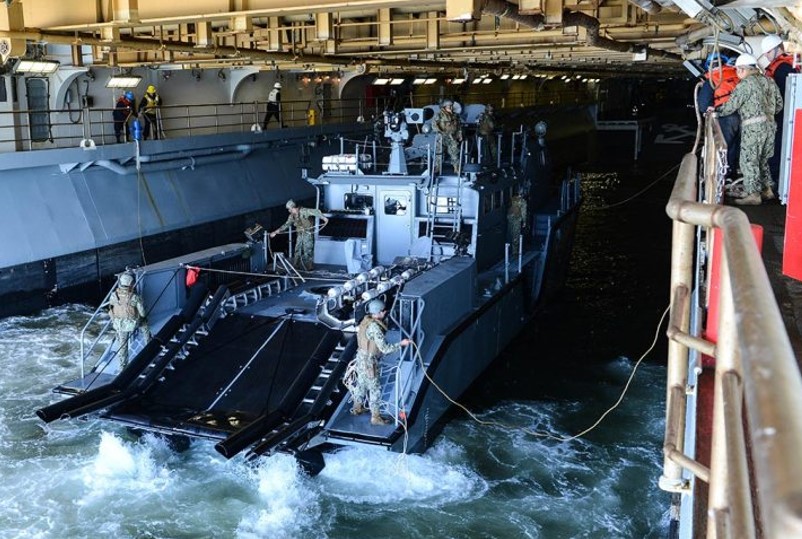 With a goal of acquiring forty-eight Mark VI patrol boats, the US Navy intends for the MK VI to serve in the active Coastal Riverine Forces and the Reserve Squadrons located throughout the United States with MK VI deployments to the Fifth, Sixth, and the Seventh Fleets, respectively.
As of early 2019, the Coastal Command Boat (CCB), a 65-foot shorter version of the MK VI PB with similar weapons and C4ISR outfit, no longer exists in the Coastal Riverine Force (CRF) community. NAVSEA confirmed that one CCB was delivered to the US Navy in May, 2013. Presently, all of Coastal Riverine Group One's Mark VI patrol boats are the longer 85-foot version.
"As our missions have changed throughout the years, our crafts have been adapted to the requirements of current missions," replied Lt. Handley. "The range and mission adaptability of the MK VIs add value and capability to the mission commanders [over the 25′ force protection small built by SafeBoats and 34′ patrol boat force protection large produced by SeaArk Marine, Inc. platforms that preceded the MK VI]."
Each patrol boat's outfitting, consumables, ammunition load, and unmanned vehicles (known as "The Package") is customized and dependent upon the mission being executed.
Lt. Handley explained how various units have operated from the MK VI patrol boats.
"Explosive ordnance disposal technicians and marines have embarked on MK VIs during training exercises. We have also hosted familiarization rides for defense and navy leaders. They're all impressed with the speed and maneuverability of the MK VI, as well as the capabilities that MK VI possess with respect to communication links, unmanned systems and weapons systems.
"A MK VI company is made of 52 passengers, three 11-sailor crews, with approximately 19 personnel for maintenance and command and control. All CRF [Coastal Riverine Force] personnel attend Expeditionary Combat Skills Course in Gulfport, MS, for four weeks and then hone their CRF skills through unit level training. Many personnel will also attend additional training courses that are dependent upon the billet to which the individual has been assigned. "At the CRF squadron level, Navy Surface Warfare Officers now have the opportunity to compete for MK VI command positions. Junior SWOs on track to successfully complete their second division officer tours can screen for command-at-sea billets as MK VI patrol boat commanders while department heads requesting to screen for command early can now be slated as MK VI company commanders, commanding three of the boats. "Serving in at-sea command positions of any kind keeps Navy SWOs on track to compete for future promotions and command opportunities with elevated responsibility."
When asked about any recent response to operational threats, Lt. Handley said that as of the end of 2018, the twelve MK VI patrol boats of Coastal Riverine Group have not fired their guns in response to a threat during official missions and deployments. This was again confirmed as of this May 2019.