The Royal Australian Navy (RAN) has welcomed HMAS Sydney, its third and final Hobart-class air warfare destroyer, into the fleet in the first commissioning of an Australian warship at sea since the Second World War.
The ceremony, conducted off the coast of New South Wales on 18 May 2020, marked the moment the 147-metre long AWD HMAS Sydney (V) became one of Her Majesty's Australian Ships.
In addition, the commissioning marked a significant milestone in the Australian government's AU$90 billion Naval Shipbuilding Plan.
"The commissioning of the final Hobart class destroyer not only marks the beginning of a new era for the navy but also demonstrates the success of this government's Australian Naval Shipbuilding Plan," Minister for Defence, Senator the Hon Linda Reynolds, said.
"The navy is now equipped with a new level of flexibility and lethality to protect maritime task groups operating in an increasingly complex region, while also allowing us to work even closer with our allies."
Chief of Navy, Vice Admiral Michael Noonan, AO, RAN, said as the fifth warship to bear this name, the newbuild inherits an important legacy.
"Sydney was technically upgraded during her build to integrate the MH-60R 'Romeo' Seahawk submarine-hunting helicopter and her Close-in Weapons Systems, making her Australia's most lethal ship," Vice Admiral Noonan said.
"She is designed to protect task groups by providing air defence to accompanying ships, in addition to land forces and infrastructure in coastal areas, and self-protection against missiles and aircraft."
During the ceremony the ship received a blessing and Sydney's Commanding Officer, Commander Edward Seymour, read the ship's commissioning order before the Australian White Ensign was hoisted, signifying completion of the commissioning.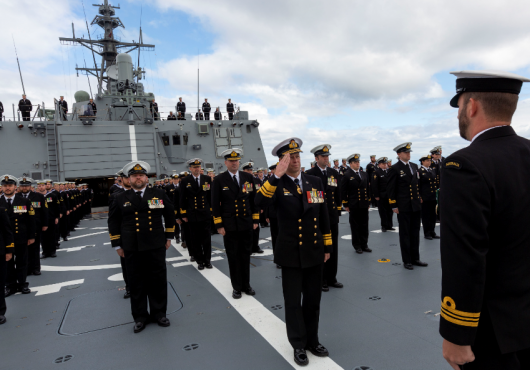 ---
Sydney is the last of three Hobart-class vessels built for the navy at Osborne in South Australia and is based on the Navantia F100 frigate design. She is equipped with advanced combat systems, providing the ship with layered offensive and defensive capabilities to counter conventional and asymmetric threats.
Sydney will now undergo her test and evaluation period where she will integrate into the fleet and navy personnel will develop their proficiencies with her Aegis combat system.
Sydney's sister ships, Hobart and Brisbane, were commissioned in 2017 and 2018 respectively and all three vessels are homeported at Fleet Base East in Sydney.
The first Royal Australian Navy vessel to be commissioned at sea was HMAS Matafele. The World War II stores carrier was commissioned on 1 January 1943.
Watch the ceremony in the video below:
Photo: Photo: Royal Australian Navy