USS Theodore Roosevelt returns to San Diego after COVID-19 experience
The US Navy's Nimitz-class aircraft carrier USS Theodore Roosevelt (CVN 71) returned to Naval Air Station North Island, San Diego on July 9, marking the end of its deployment to the U.S. 7th Fleet area of operations.
The warship departed Guam in early June 2020.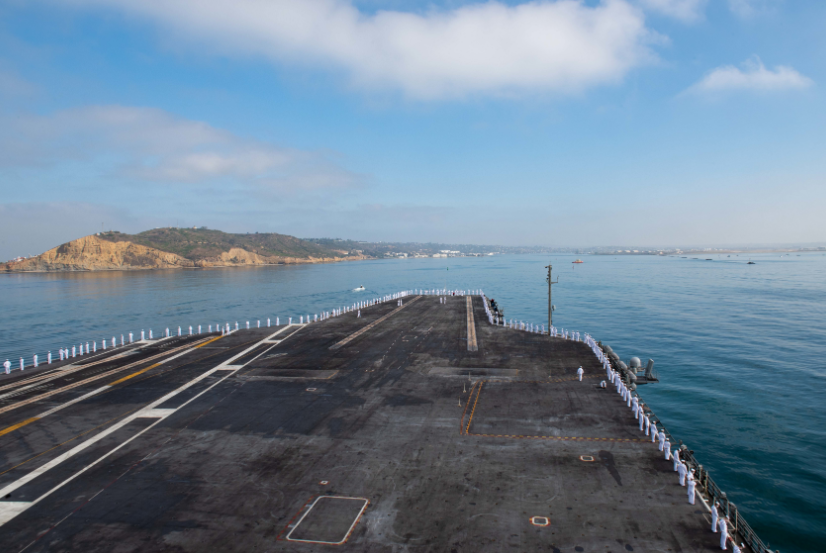 More than 6,000 Sailors from Theodore Roosevelt Strike Group and embarked Carrier Air Wing (CVW) 11 deployed January 17 to conduct operations in the Indo-Pacific and maintain security and stability in the region.
"I am incredibly proud of the Theodore Roosevelt Strike Group and all they've accomplished over the deployment," said Rear Adm. Doug Verissimo, commander Carrier Strike Group 9.
"They operated in a variety of complex environments ranging from how to respond to an international pandemic to operating safely throughout the Indo-Pacific, including the South China Sea."
According to the navy, Theodore Roosevelt sailed over 31,835 nautical miles, deploying dynamically to support dual-carrier operations, expeditionary strike force operations, air defense exercises, and joint-service interoperability exercises.
The ship had an outbreak of coronavirus in early March and pulled into Guam ahead of a scheduled port visit. The virus spread rapidly in the following weeks to more than one thousand.
Theodore Roosevelt moved more than half of the crew off ship to quarantine at various locations on Guam, leaving enough Sailors aboard to stand critical watches and to clean and sanitize the ship. The crew members who met rigorous 'operational units' return to work criteria set forth by U.S. Pacific Fleet returned to the ship and were able to get underway and back to their mission June 4.