Hellenic Army Special Forces orders patrol boat from Viking
Viking Life-Saving Equipment has won a tender to supply the Hellenic Army Special Forces with its Munin S1200 daughter craft.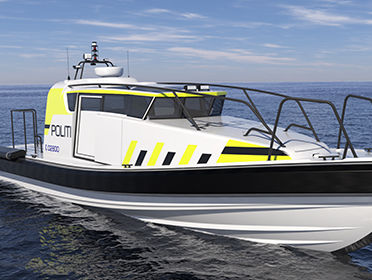 The contract for this large open-top patrol boat is latest in a series of agreements that support patrol, defense and search and rescue capability of Hellenic seaborne forces.
Designed to operate for extended periods of time away from land or its mother ship, the 12m length by 3.5m deep-V hull boat will support Special Forces in tactical maneuvers, patrol and search and rescue operations.
The contract follows the Hellenic Navy's order of 11 Viking Norsafe METIS rigid inflatable boats (RIBs), announced last month.
Recent wins in Greece have also seen the commissioning of two METIS 600 units for the navy's fast missile launch craft. All of these craft are built at VIKING's facilities in Greece.
The VIKING Norsafe Munin S1200 is supplied with either a petrol or diesel engine and can be fitted with sterndrives, surface drives or a waterjet propulsion system. In this case, the RHIB features a triple Mercury Verado 400 Racing outboard motor, to drive the S1200 through the water at over 65 knots. The Mercury Verado 400 is also renowned for its robust yet easy-to-handle lightweight fiberglass housing.
The new open S1200 design incorporates knowledge gained from its existing closed-cabin S1200 counterpart and has passed a series of tests involving user groups representing the Hellenic Coast Guard, border patrol, customs and other governmental authorities, says Endre Eidsvik, VP Sales & Service of the VIKING Norsafe boats and davits division.
"Crucially for this order, the design and construction of the S1200 has been found to meet the exacting requirements of the Hellenic Army Special Forces for a high-performance, low-maintenance boat that supports SAR operations day and night, in all weather conditions," he explained.
Back in 2019, Viking Life-Saving Equipment also won a major contract to build and supply a Viking Norsafe Munin S1200 patrol boat for the Norwegian police force.