Canadian Navy unveils name of 6th Arctic and offshore patrol ship
The Royal Canadian Navy's sixth Arctic and offshore patrol ship (AOPS) will be named in honour of Lieutenant Robert Hampton Gray, a Canadian naval hero of the Second World War, the Department of National Defence announced.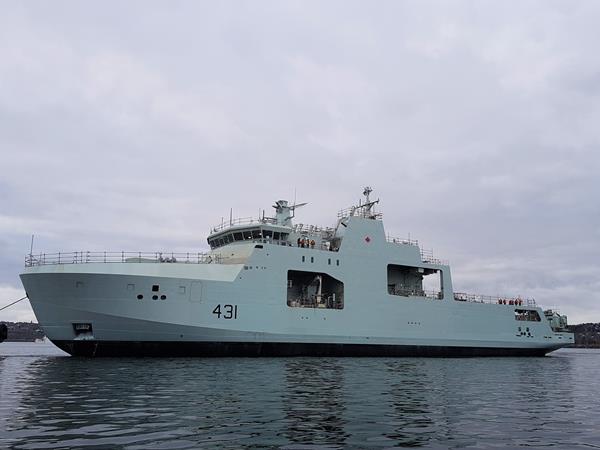 The names of the six Harry DeWolf-class AOPS will honour prominent Canadian naval figures who served Canada with the highest distinction.
For the first time in its 110-year history, the RCN has named a class of ships after prominent Canadian naval figures, honouring their leadership, achievements and heroism while serving Canadian interests at sea. The other five AOPS are named Harry DeWolf, Margaret Brooke, Max Bernays, William Hall, and Frédérick Rolette.
In late July, the first AOPS, Harry DeWolf, was delivered to the Royal Canadian Navy by Halifax Shipyard. The second unit, HMCS Margaret Brooke, was launched at the yard in November last year.
The ships are being built under Canada's National Shipbuilding Strategy (NSS), which was created to replace the current surface fleets of the Royal Canadian Navy and the Canadian Coast Guard. Over the next few decades, Halifax Shipyard will build six AOPS for the Royal Canadian Navy, two AOPS for the Canadian Coast Guard, and 15 Canadian surface combatants for the Royal Canadian Navy.
The Harry DeWolf-class will be capable of armed sea-borne surveillance of Canada's waters, providing government situational awareness of activities and events in these regions, and cooperating with partners to assert and enforce Canadian sovereignty.
Robert Hampton Gray
Lieutenant Robert Hampton Gray joined the Royal Canadian Naval Volunteer Reserve in 1940 and served as a pilot in the Royal Navy Fleet Air Arm. Lt Gray embarked on HMS Formidable with 1841 Squadron, which joined the war in the Pacific as part of Operation ICEBERG in April 1945.
Lt Gray was awarded the Victoria Cross posthumously, for courage and determination in carrying out daring air strikes on the Japanese destroyer HIJMS Amakusa. On August 9, 1945 he led two flights of Corsair aircraft to attack naval vessels in Onagawa Bay. He opened the attack run flying straight into concentrated anti-aircraft fire, and was hit almost immediately. With his aircraft on fire, and one bomb lost, he continued the attack and released his remaining bomb on the escort vessel HIJMS Amakusa, causing the ship to capsize and sink. His aircraft then crashed into the sea, and his body was never recovered.