Finnish Navy conducts 1st torpedo firing from Hamina-class missile boat
The Finnish Navy conducted its first torpedo firing in the Archipelago Sea with a TP45 torpedo borrowed from the Swedish Defence Materiel Administration (FMV) on 19 August.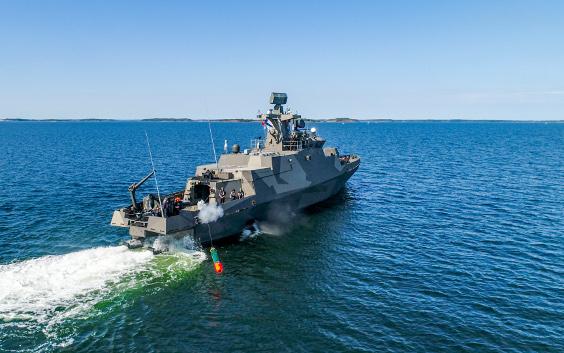 As informed, the firing was conducted by fast-attack craft Tornio.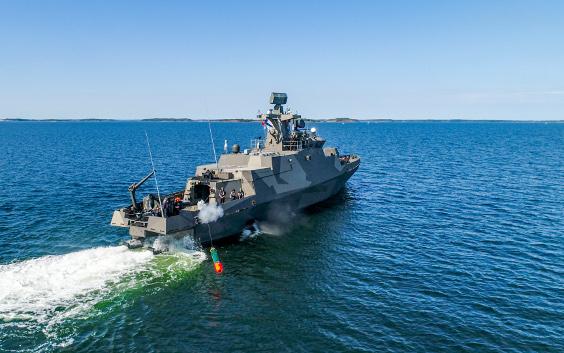 This was the first time that a torpedo has been launched from a Hamina-class fast-attack craft and the first time in decades that the navy has operated a piece of torpedo weaponry, the Finnish Navy said.
"The objective of the launch was to ascertain the capability of the TP45 torpedo system as a part of the upgrade of Hamina-class fast-attack crafts. The tested weaponry will improve the navy's anti-submarine warfare capability significantly, and it will keep being improved with the introduction of the new TP47 in a few years' time," the Commander of the Navy, Rear Admiral Jori Harju, said.
"Sub-surface capability is an essential part of modern naval operations, and when completed, this project will enable the navy to have striking power against air, surface and sub-surface targets."
Modern torpedo system that can operate in the Baltic Sea
The Finnish Navy has placed an order with Saab for torpedo and associated combat system deliveries for the Hamina-class fast-attack craft and future Pohjanmaa-class corvettes.
 The Saab Lightweight Torpedo (TP47), succeeding the current TP45 system, will be installed into these vessel classes.
The TP47 is a lightweight torpedo intended especially for anti-submarine operations in shallow littoral waters. It is effective also in blue water and against surface vessels. Due to its versatile features, it is extremely well suited for operating in the naval operating environment of the Baltic Sea and the Finnish coasts.
The TP47 torpedo system will be introduced into service use in 2023. Until then, the TP45 will be in service. The torpedo project is a practical proof of how well the materiel and training cooperation between Finland and Sweden works. 
Traficom and the Border Guard supported the torpedo launch exercise by suspending sea traffic in the exercise area for the duration of the firings.