Keel laid for German Navy's 8th K130 corvette
The German Navy has celebrated the keel laying for the eighth new K130 Braunschweig-class corvette, Karlsruhe (F267).
The keel-laying ceremony took place at Lürssen-Group's Peene-Werft shipyard in Wolgast, Germany, on October 6, 2020. Due to COVID-19 restrictions, only a small group of people attended the event.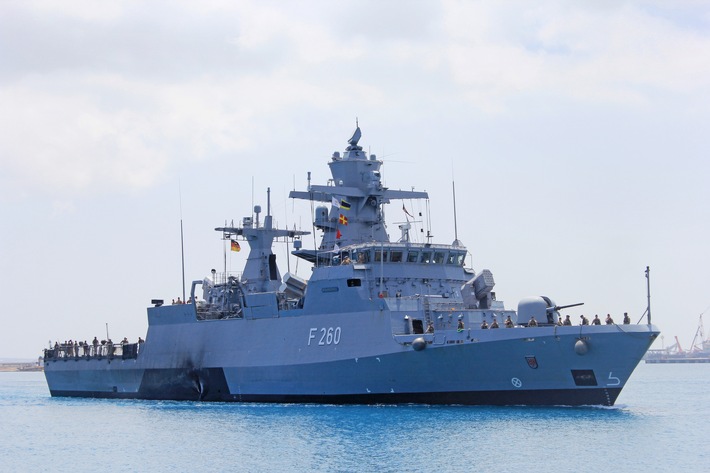 Karlsruhe is the third ship of the second batch of K130 corvettes and the eighth ship belonging to the navy's Braunschweig class of ocean-going corvettes.
The first five units were commissioned between 2008 and 2013, replacing the Gepard-class fast attack craft of the German Navy. In September 2017, a contract for the second batch of five units — Köln, Emden, Karlsruhe, Augsburg and Lübeck — was awarded. In the future, the navy will have a fleet of ten corvettes belonging to the 1st Corvette Squadron in Rostock-Warnemünde.
The units 6-10 will be delivered by a consortium (Arbeitsgemeinschaft ARGE) comprising ThyssenKrupp Marine Systems, German Naval Yards Kiel and Lürssen Werft, which serves as prime contractor.
The 90-meter ships are designed for operation in coastal waters, augmenting the capabilities of fast attack boats and frigates. They are equipped with two 27 mm Mauser MLG27 remote-controlled, fully-automatic cannons, and one OTO Melara 76 mm gun.
The corvettes also feature a helicopter landing deck and use the Rolling Airframe Missile (RAM) – guided naval missile for close-in defense against anti-ship missiles, aircraft, helicopters and surface threats.
Last month, Swedish company Saab was selected to provide RBS15 anti-ship missiles for the new batch of Braunschweig-class corvettes. The order value is approximately SEK 1.7 billion (around $194 million) with deliveries between 2022 and 2026.