Indian Navy commissions 3rd Scorpene diesel-electric submarine
The Indian Navy has commissioned its third Scorpene-class diesel-electric attack submarine, INS Karanj.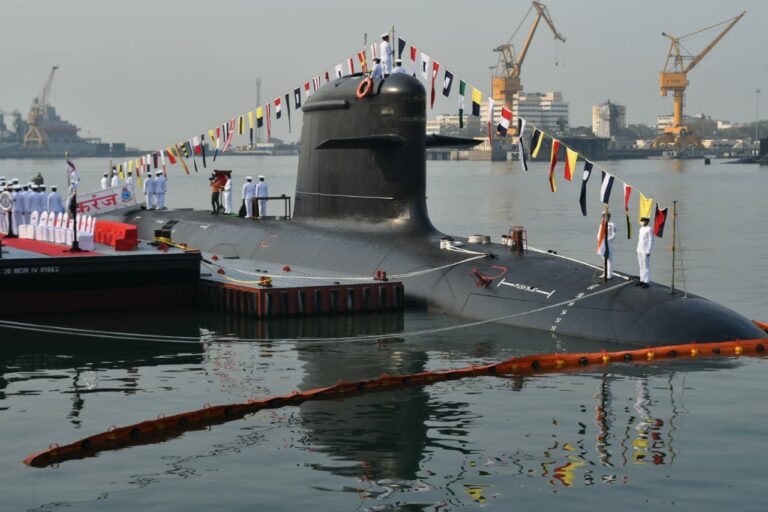 The commissioning ceremony took place at the Naval Dockyard Mumbai on 10 March 2021, following the newbuild's delivery in February.
Six Scorpene-class submarines (also known as Kalvari-class) are being built in India by the Mazagon Dock Shipbuilders Limited (MDL) under collaboration with French Naval Group (former DCNS) within the navy's so-called Project 75.
Launched back in 2018, INS Karanj would form part of the Western Naval Command's Submarine fleet and would be another potent part of the command's arsenal.
The Scorpene submarines are said to be among the most advanced conventional submarines in the world. More deadly and stealthier than their predecessors, these submarines are equipped with potent weapons and sensors to neutralize any threat above or below the sea surface.
Scorpene-class units are 67.5 meters long with a height of about 12.3 meters. They are fitted with 360 battery cells (each weighing 750 kg) powering the permanently magnetised propulsion motor.
Equipped with the submarine tactical integrated combat system (SUBTICS), sea skimming SM 39 Exocet missiles or the heavy weight wire guided Surface and underwater target (SUT) torpedoes, they can undertake multifarious tasks which include anti-surface as well as anti­ submarine warfare.
The first submarine from the batch, INS Kalvari, was commissioned in December 2017 and the second, INS Khanderi, in September 2019.