German Navy's third F125 frigate enters service
Sachsen-Anhalt (F224), the German Navy's third of four F125-class frigates, has officially entered service.
According to an announcement issued by the German Navy, the ship was put into service at Naval Base Heppenser Groden in Wilhelmshaven on 17 May at 2 p.m.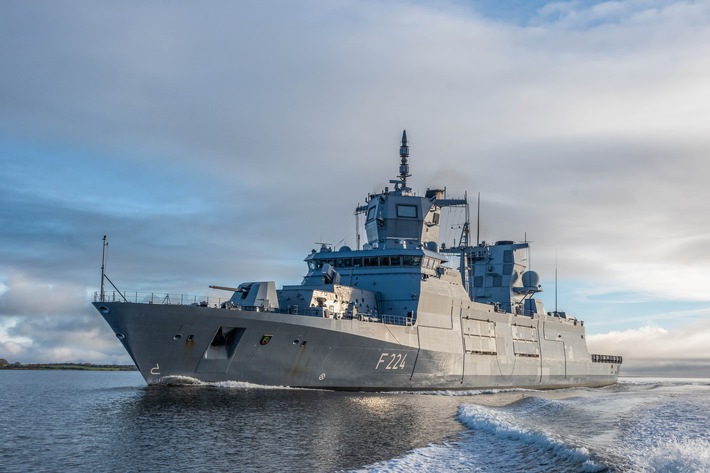 "I am very happy about the commissioning of the third of four units. We urgently need the unit, on the one hand to relieve our existing units of obligations and on the other hand to use this platform for training our crews due to the lack of training infrastructure on land," Flotilla Admiral Ralf Kuchler, commander of the flotilla 2, commented.
"With the commissioning of the 'Sachsen-Anhalt', the long phase of testing and takeover, which we can look back on with pride, ends," Frigate Captain Elmar Bornkessel, Commander of the F125 "Delta" crew, said.
Sachsen-Anhalt was delivered to the navy several weeks ago.
The newbuilding is the third of a total of four Baden-Württemberg-class frigates ordered by the Federal Office of Bundeswehr Equipment, Information Technology and In-Service Support (BAAINBw) from the ARGE F125 consortium.
The brand new frigates are replacing the Bremen-class frigates, commissioned between 1982 and 1990, which served as the backbone of the German Navy.
With a displacement of about 7,200 tons, the F125 units have a length of 149 meters, a beam of 18 meters and can reach a speed of 26 knots.
In addition to the Baden-Württemberg" and the Nordrhein-Westfalen, Sachsen-Anhalt is also operated with a multi-crew concept. The advanced technology enables intensive use with up to two years of standing time in the operational area without a planned shipyard stay. 
Thanks to the high level of automation, the ships can also go to sea with a crew of only 120 women and men. For comparison: the "older" frigates of the German Navy require almost twice as much crew.
With the frigates of the F125 class, the navy gains the capabilities for extensive tactical fire support for army forces on land and for defense against asymmetric threats. With the four so-called buster boats and the on-board helicopters, each frigate has extensive means of transport in addition to an extended reconnaissance and weapon range in order to be able to use its own special or specialized forces for rescue and evacuation, for armed repatriation and for operations against opposing forces. With the embarked marine helicopters, they are also able to be integrated into a modern anti-submarine group. Due to their generous embarkation capacities, the ships are also well suited for association management.