Prince William starts construction on UK's 3rd Type 26 frigate
In a steel cut ceremony at BAE Systems' shipyard in Glasgow on 29 June, His Royal Highness, Prince William, Duke of Cambridge, set the plasma cutting machine to work on the first plate of steel for the third Type 26 frigate, HMS Belfast.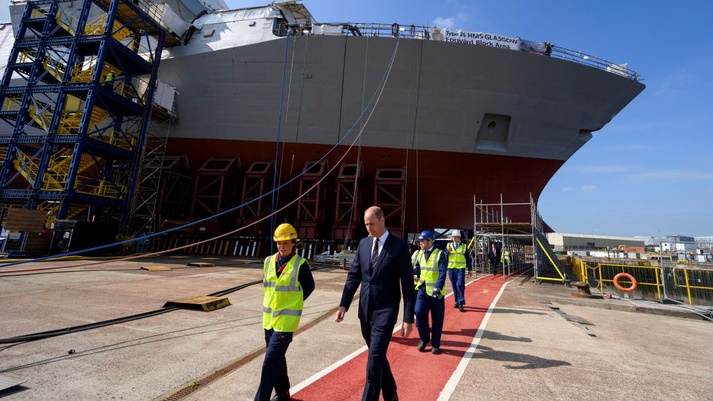 The event marked an important step in the programme to deliver the UK's latest anti-submarine warfare capability to the Royal Navy, with all three of the first batch of City Class frigates now under construction.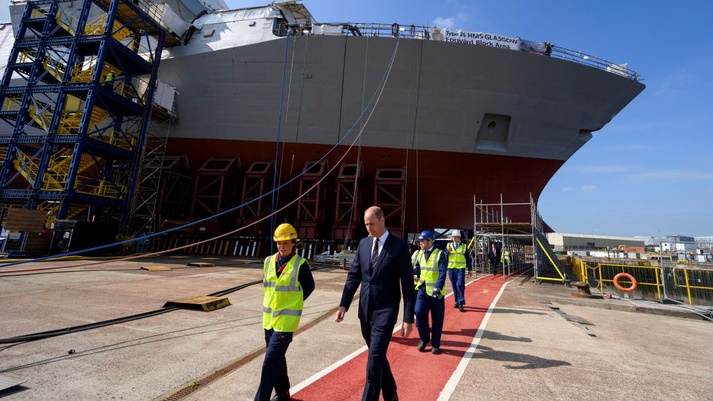 The UK-sourced steel plate will form part of a unit which will contain the machinery space for the gearbox and stabilisers of the 8,000-tonne HMS Belfast.
In recent weeks the first of class, HMS Glasgow, was rolled out of the build hall into the open for the first time, while progress on HMS Cardiff continues at pace, with more than 40% of the ship's units in build at the company's Govan shipyard.
"Standing in the shadow of HMS Glasgow which has been brought together on the hardstanding, with large parts of HMS Cardiff in construction around us, today's steel cut for HMS Belfast is another significant milestone in the delivery of the eight-ship Type 26 class, itself part of the wider Global Combat Ship endeavour that we are part of along with Australia and Canada," Vice Admiral Christopher Gardner, Defence Equipment and Support Director General Ships, said.
The Type 26 frigate is an advanced anti-submarine warship which will deliver critical protection of the Royal Navy's Continuous At Sea Deterrent and Carrier Strike Group. Each Type 26 will be equipped with a range of advanced capabilities including the Sea Ceptor missile defence system, a 5-inch medium calibre gun, flexible mission bay, Artisan 997 Medium Range Radar and towed array sonar. The flight deck will be able to accommodate helicopters up to the size of a Chinook, while the mission bay can quickly adapt to house containers and deploy manned or unmanned vessels and vehicles.
Type 26 has been designed to reduce environmental impacts, with features including a hydrodynamically designed hull to optimise fuel efficiency and an advanced anti-fouling coating, which prevents marine growth and stops the transfer of invasive species on the hull. Each ship will also benefit from diesel engine emissions abatement, which reduces nitrogen oxide exhaust emissions and a waste water treatment system, which treats all ship effluent prior to discharge into the sea. Furthermore, it is envisaged that as new technologies become available, there will be potential opportunities for Type 26 to further mitigate its environmental impact.
The Global Combat Ship supports a close partnership between the Royal Navy, Royal Canadian Navy and the Royal Australian Navy, supporting greater operational, training and intelligence ties. In total, the UK, Australian and Canadian Navies will operate 32 anti-submarine warfare frigates, all based on the Type 26 reference design.