RAN's 1st Supply-class auxiliary ship wraps up replenishment at sea
The Royal Australian Navy's (RAN) new Supply-class auxiliary oiler replenishment (AOR) ship, HMAS Supply, has completed fuel replenishment at sea (RAS).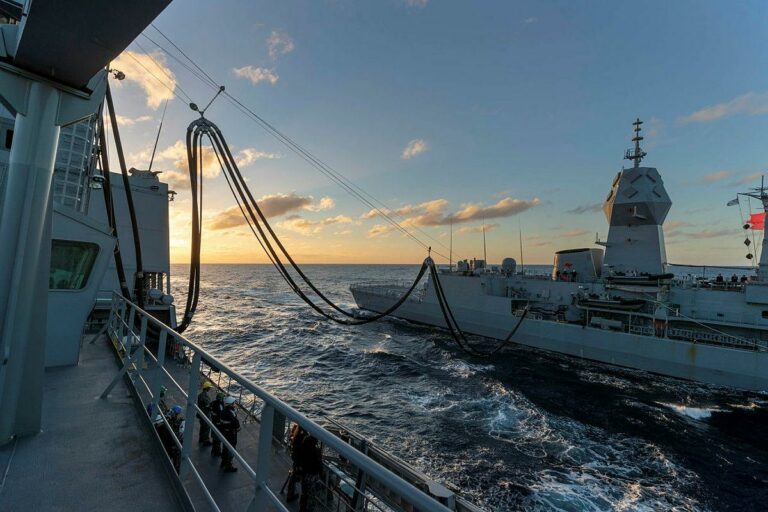 The vessel's first RAS took place off Australia's east coast and involved the transfer of diesel fuel to HMAS Anzac.
It is the first of two Supply-class AOR ships being built by Spain's Navantia as part of a contract awarded in May 2016.
The vessel was commissioned in April this year.
Supply and its incoming sister ship, NUSHIP Stalwart, will carry fuel, water, food, parts and dry cargo for the replenishment of Australian and regional partner ships while under way at sea, and to aid in humanitarian and disaster relief when called upon.
So far, the ship has completed combat survivability training, man overboard exercises, boarding party training, gunnery and warfare training and been rocked through a sea state six and executed a Heavy Jackstay trial.
"Navy's new AORs are exceptionally versatile and a valuable generational shift from previous logistics ships," Commanding Officer Supply Captain Ben Hissink Hissink said.
"They can carry larger volumes of fuel, operate in a wider range of sea states and environmental conditions, support smaller ships and are now equipped with a combat management system that enhances their interoperability with Australian and allied assets."
Successful completion of the RAS means Supply is well on the way to achieving initial operating capability.