South Korean shipbuilder Daewoo Shipbuilding & Marine Engineering (DSME) has launched the sixth Daegu-class (FFX-II) frigate at its Okpo shipyard built for the South Korean Navy.
The sixth vessel named Pohang hit the water on 8 September just four months after the fifth vessel was launched.
The unit is 122 meters long, 14 meters wide, 35 meters high, and weighs 2,800 tons. It features a hybrid propulsion system that uses a gas turbine and a propulsion motor to reduce underwater radiation noise.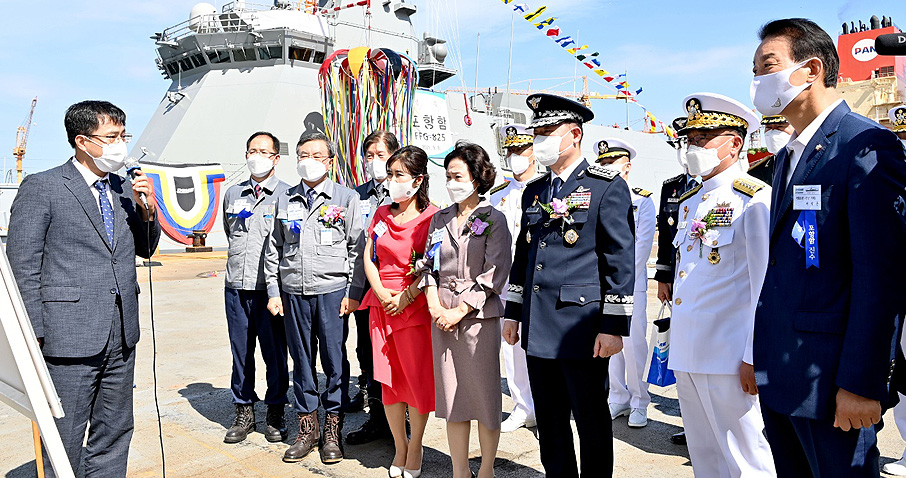 The new frigate is being built to replace the navy's 1,500-ton frigates and 1,000-ton patrol combat corvettes. The ship will be delivered to the navy in early 2023 after the completion of tests.
"The Pohang has improved detection and attack capabilities for surface and submarine targets, and based on its enhanced anti-submarine capabilities, it will play an active role as the main warship of the maritime fleet in the future," Jeong Yeong-soon, head of the warship power division at the Naval Headquarters, said.
The new frigate also has improved capability to detect and attack submarines with a towed array sonar system and a long-range anti-submarine torpedo, according to the navy.
Each ship in the class is powered by one Rolls-Royce MT30 gas turbine engine and two Leonardo DRS permanent magnet motors driven by MTU 12 V 4000 diesel-generator sets in a combined diesel-electric or gas (CODLOG) configuration.
South Korea has awarded contracts for all eight ships in the class. DSME is delivering the first, second, fifth and sixth units, while HHI will build the third, fourth, seventh and eighth frigate.