Eastern Shipbuilding cuts steel for third USCG's OPC
US-based shipbuilder Eastern Shipbuilding Group (ESG) has started the construction work for USCG Ingham, the third ship in the Heritage-class offshore patrol cutter (OPC) program.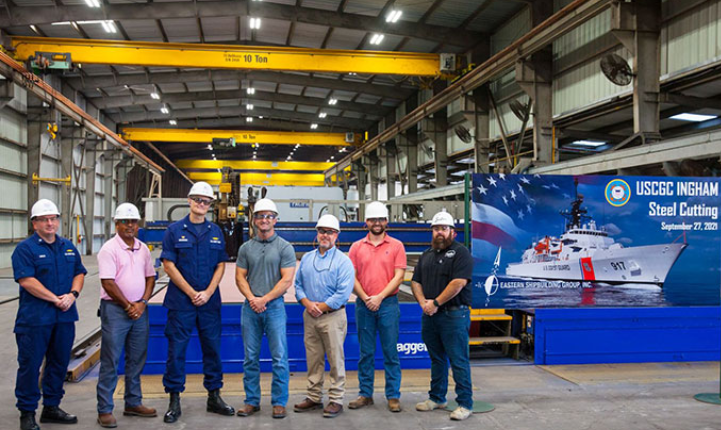 The steel-cutting ceremony on 28 September at ESG's Allanton Shipyard where the first steel plates were cut by personnel in ESG's steel and aluminum processing facility and transferred to the Nelson Street Shipyard for assembly and construction.
The OPC is designed to conduct multiple missions in support of maritime security and border protection.
Measuring 360 feet in length and 54 feet in width, with a projected speed of 22 knots, the OPCs are designed to conduct multiple missions in support of the nation's maritime security and border protection.
The OPC design includes the capability of carrying an MH-60 or MH-65 helicopter and three operational over the-horizon small boats. The vessel is also equipped with a highly sophisticated combat system and C5ISR suite that will enhance capabilities to execute the service's missions.
Also referred to as the Heritage-class, the OPCs will provide a capability bridge between the national security cutter, which patrols the open ocean in the most demanding maritime environments, and the fast response cutter, which serves closer to shore.
The lead OPC, USCGC Argus, is nearly fully assembled and remains on schedule and on budget, according to the company.
In May 2021, the keel was laid for the second OPC, USCGC Chase, and all long lead time materials have been ordered for USCGC Hull 4.
ESG fully rebuilt its operational facilities following Hurricane Michael in 2018 and also expanded them with over $42.5 million in infrastructure improvement investments. The company has dedicated its Nelson Street Shipyard exclusively to the OPC program to ensure an unimpeded and hot production line experience.
Later this year, ESG will commission a new aluminum superstructure fabrication and assembly hall at its Nelson Street facility.