Naval Group hands over third Argentinian multi-mission OPV
French defense contractor Naval Group has delivered the third out of four multi-mission offshore patrol vessels (OPV) ARA Storni built for the Argentinian Navy.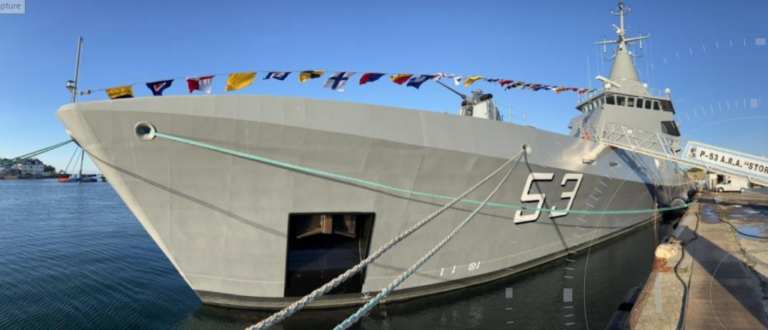 This delivery was carried out by teams from Kership, a joint-venture between Piriou and Naval Group. It is part of the contract signed by Naval Group with Argentina in 2018 for the delivery of four multi-mission patrol vessels. ARA Bouchard (former L'Adroit) was delivered in December 2020 and ARA Piedrabuena in April this year.
With the delivery of the newest vessel ARA Storni, the program keeps progressing as scheduled to conclude with the delivery of the last vessel scheduled for April 2022. A 44-people crew from the Argentine Navy has been trained in the operation and maintenance of the vessel.
This third patrol vessel of the series acquired by the Argentine Navy offers the same assets and features as those of the ARA Piedrabuena. Better armed and motorized than the Bouchard, equipped with an active stabilization system and a bow thruster, it is also ice-proven, i.e. adapted to navigation in the cold waters of Antarctica.
ARA Storni is equipped with the POLARIS system and NiDL tactical data link system, specifically developed by Naval Group for state action missions at sea and sea-proven by the French Navy.
The 87-meter long OPV is able to stay on high seas for more than three weeks, reach a speed of 20 knots and accommodate a helicopter. Implemented by a reduced crew of 40 members, it is also able to accommodate about twenty extra passengers.