Bollinger Shipyards delivers newest Sentinel-class FRC ahead of schedule
US-based constructor of ships, workboats and patrol vessels Bollinger Shipyards has delivered the newest Sentinel-class fast response cutter (FRC) USCGC John Scheuerman to the US Coast Guard (USCG) ahead of schedule.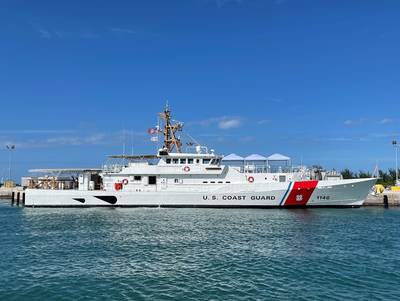 As informed, the USCGC John Scheuerman departed Lockport on 11 October for Bollinger's Fourchon facility where it performed a shakedown excercise prior to dry docking for final inspection in preparation of its delivery. The FRC departed Fourchon for Key West, FL on Sunday on 17 October.
The USCGC John Scheuermanis the fifth of six FRCs to be home-ported in Manama, Bahrain, which will replace the aging Island-class patrol boats, built by Bollinger Shipyards 30 years ago.
The FRC is an operational "game changer," according to senior Coast Guard officials. FRCs are consistently being deployed in support of the full range of missions within the United States Coast Guard and other branches of armed services. This is due to its performance, expanded operational reach and capabilities, and ability to transform and adapt to the mission.
The firm delivered the vessel nearly one week ahead of schedule despite a three-week shutdown due to the significant damage sustained to Bollinger's facilities during Hurricane Ida.
Recently, the USCG commissioned Sentinel-class fast response cutter (FRC) USCGC Emlen Tunnell.