Argentine Navy commissions third OPV ARA Storni
The third of the four offshore patrol vessels ARA Storni (OPV 87) ordered from French defense company Naval Group by Argentina was commissioned today (3 December 2021) at Port Belgrano Naval Base.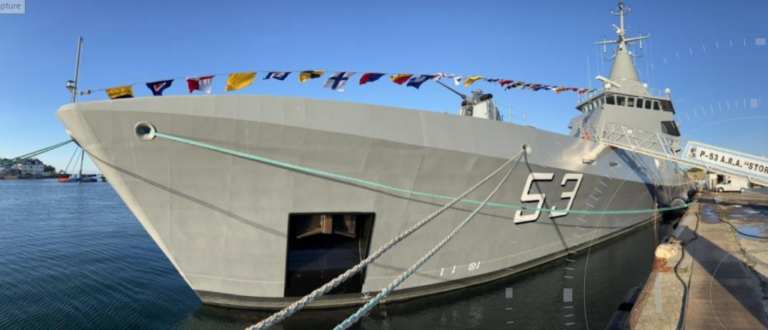 The company delivered the vessel in October this year. The OPVs are being built in France by Kership, a joint venture between Naval Group and Piriou.
ARA Bouchard (former L'Adroit) was delivered in December 2020 and ARA Piedrabuena in April this year. With the delivery of the newest vessel ARA Storni, the program keeps progressing as scheduled to conclude with the delivery of the last vessel scheduled for April 2022. 
The OPV vessels built for Argentina measure 87 meters in length, displace 1,650 tons and have a flight deck capable of accommodating a 10-ton helicopter. They will have increased autonomy due to an improved freshwater production capacity on board.
Better armed and motorized than the Bouchard, equipped with an active stabilization system and a bow thruster, it is also ice-proven, i.e. adapted to navigation in the cold waters of Antarctica.
Some of the features that ARA Storni also includes are an active stabilization system and a bow thruster, the POLARIS system and NiDL tactical data link system.