US Senate okays $4.9B funding for three new Arleigh Burke-class destroyers
The US Senate has authorized the country's annual defense funding bill, allocating $4.9 billion for the procurement of three Arleigh Burke-class destroyers.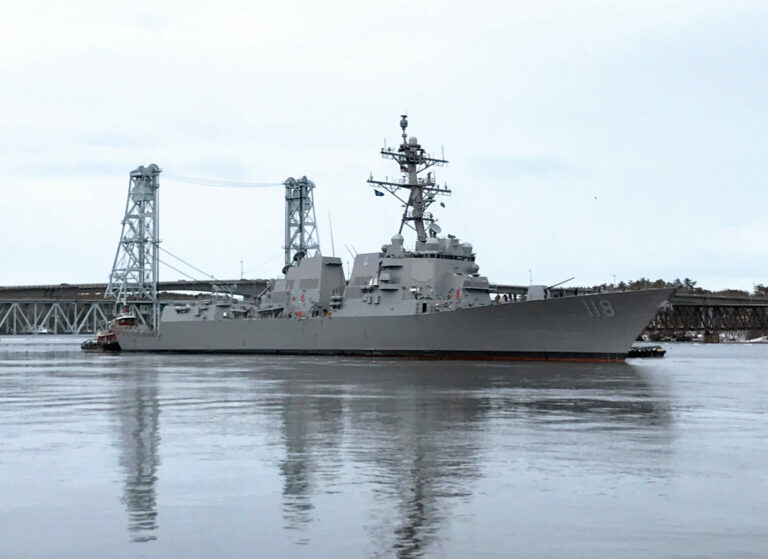 The US Senate voted on 15 December for a version of the National Defense Authorization Act, or NDAA, that authorizes $770 billion in defense spending. Under the defense funding bill, the US plans to spend $4.9 billion for three Arleigh Burke-class destroyers in 2022, an increase of $2.9 billion from the previous year.
Furthermore, the senate has authorized an increase of $120 million for long-lead material for the Arleigh Burke-class destroyer program.
According to the US officials, the senate members also expressed support for an acquisition strategy for the next generation destroyer that would feature greater collaboration between industry and the government, taking
lessons from early successes in the Columbia-class program. They also wanted to direct the Secretary of
the Navy to provide a report on the use of such acquisition practices in the next-generation destroyer program.
The Secretary of the Navy is also asked to provide reports on various aspects of a potential destroyer multiyear procurement contract starting from 2023.
The Arleigh Burke-class destroyers (DDG 51) are warships that provide multi-mission offensive and defensive capabilities. Destroyers, which replaced the Charles F. Adams class (DDG 2), can operate independently or as part of Carrier Strike Groups, Surface Action Groups, and Expeditionary Strike Groups. The ships employ all-steel construction and are comprised of three separate variants or "Flights".
They are equipped with an Aegis combat system that integrates the ship's sensors and weapon systems to engage anti-ship missile threats. The first Arleigh Burke-class Aegis destroyer was commissioned in 1991. The contracts for the destroyers were awarded to shipbuilders General Dynamics Bath Iron Works (BIW) and Huntington Ingalls Industries (HII), through its Ingalls Shipbuilding division.
BIW cut the steel for new Arleigh Burke-class guided-missile destroyer USS Quentin Walsh last month. USS Quentin Walsh (DDG 132) will be a DDG 51 Flight III guided-missile destroyer centered on the AN/SPY-6(V)1 air and missile defense radar and will incorporate upgrades to the electrical power and cooling capacity plus additional associated changes to provide greatly enhanced warfighting capability to the fleet. 
Meanwhile, Huntington Ingalls Industries (HII), through its Ingalls Shipbuilding division, started with the fabrication of the 81st  Arleigh Burke-class (DDG 51) destroyer USS George M. Neal (DDG 131) in early December.
The latest Arleigh Burke-class destroyer that was commissioned into the US Navy is USS Daniel Inouye (DDG18). As a Flight IIA destroyer, DDG 118 is equipped with Aegis Baseline 9, which provides improved integrated air and missile defense capabilities, increased computing power, and radar capable of quickly detecting and reacting to modern air warfare and Ballistic Missile Defense threats.
The National Defense Authorization Act now goes to US President Joe Biden on the desk, where he's expected to sign it.