Turkish Navy's Barbaros-class frigate conducts NATO's OSG patrols
Turkish Navy's Barbaros-class lead ship TCG Barbaros (F-244) deployed to the Eastern Mediterranean Sea on 24 January as the flagship to NATO's Operation Sea Guardian (OSG) focused patrols.
The 3-week deployment is the first of six OSG focused operations scheduled this year and will run until 12 February 2022, NATO revealed. This focused patrol incorporates maritime patrol aircraft from Greece, Poland, and Turkey in addition to submarines from Greece and Turkey in support of the flagship.
Barbaros-class frigates were designed in Germany and are part of the MEKO group of modular warships, in this case, the MEKO 200 design. Two ships were built in Germany and two in Turkey with Germany. The lead ship, TCG Barbaros, was launched on 29 September 1993 and commissioned on 23 May 1997.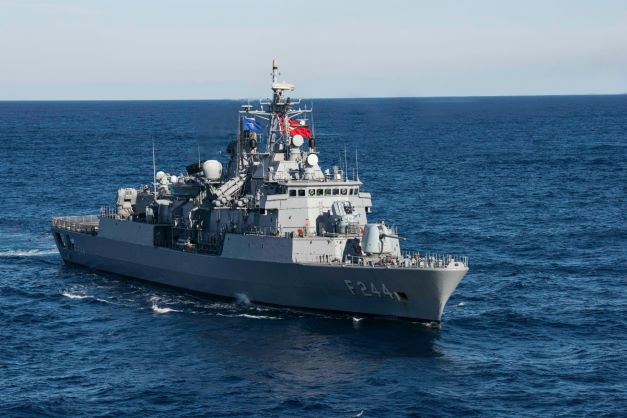 OSG is a collaborative, year-round maritime security operation designed to maintain maritime situational awareness (MSA), deter and counter terrorism activity, and build capacity and interoperability among NATO allies and partners.
In addition to the daily MSA activities, OSG has been conducting focused patrols at specific areas of interest in the Mediterranean Sea.
Simultaneously Standing NATO Maritime Group 2 comprised of the flagship ITS Margottini, ESPS Blas de Lezo and TCG Goksu, will be deployed in the Eastern Mediterranean Sea, contributing NATO's maritime situational awareness efforts.
Earlier on, it was reported that allied ships from the NATO Naval Striking and Support Forces Command and the US Sixth Fleet initiated a series of patrolling activities across the Mediterranean Sea, within the framework of "Neptune Strike 2022.
NATO launched OSG in 2016 to maintain an accurate picture of the maritime environment and contribute to the safety and security in the region.