Austal USA starts construction of US Navy's new Spearhead-class EPF ship
The keel for the future expeditionary fast transport ship (EPF 14) USNS Cody, the first of the Spearhead-class EPF Flight II configuration, was laid at Austal USA on 26 January.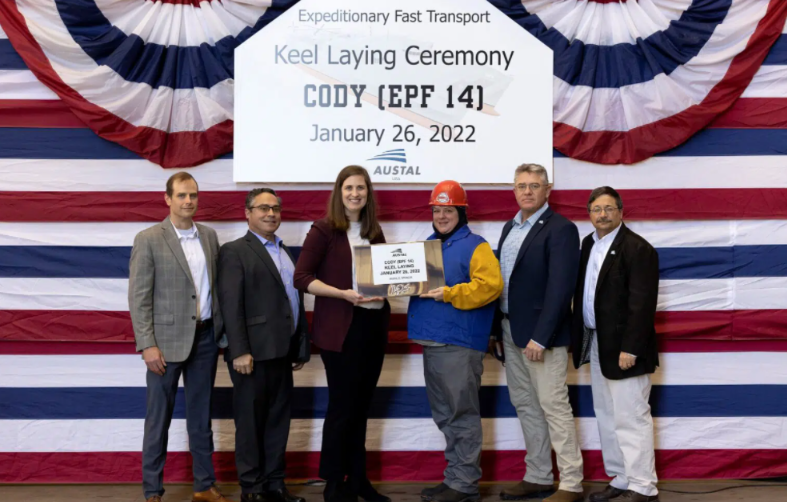 EPFs are operated by the Military Sealift Command and USNS Cody is the first ship in naval service named after Cody, Wyoming.
EPF class ships are designed to transport 600 short tons of military cargo 1,200 nautical miles at an average speed of 35 knots. The ship can operate in shallow-draft ports and waterways, interfacing with roll-on/roll-off discharge facilities and on/off-loading the Abrams main battle tank (M1A2).
The EPF includes a flight deck for helicopter operations and an off-load ramp that will allow vehicles to drive off the ship quickly. EPF's shallow draft further enhances littoral operations and port access. This makes the EPF an extremely flexible asset for support of a wide range of operations, including humanitarian assistance, maritime security, disaster relief and more, US Navy noted.
Beginning with EPF 14, the Flight II configuration is expected to enhance current EPF capabilities by including a combined forward resuscitative care capability with a limited intensive care unit and medical ward, while maintaining most of the original requirements of the ship, according to the navy.
Furthermore, Flight II EPFs will be able to stabilize postsurgical cases for evacuation without the requirement to first route them through a higher facility.
"The new capabilities of this variant of EPFs fulfills a critical need for the Navy and Marine Corps," said Tim Roberts, Strategic and Theater Sealift program manager, Program Executive Ships.
"Ensuring that the fleet has fast access to the right medical care increases both the safety and readiness of our Sailors and Marines."
Austal USA is also constructing the future USNS Point Loma (EPF 15) with production efforts beginning earlier this month. The firm received a $235 million contract to build the vessel last March.