Austal USA christens US Navy's Spearhead-class EPF ship
Shipbuilder Austal USA has christened expeditionary fast transport (EPF-13) USNS Apalachicola built for the US Navy.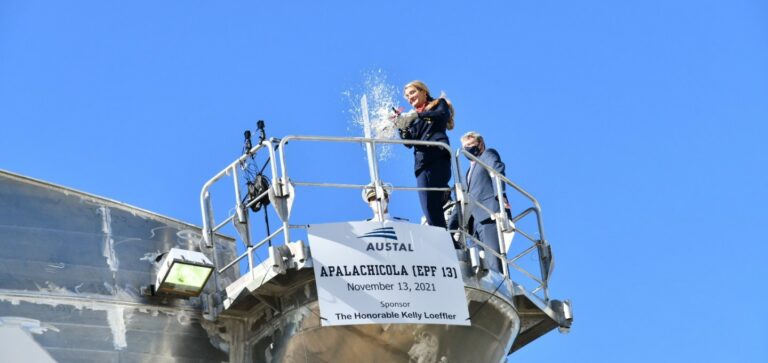 The vessel USNS Apalachicola is the thirteenth ship in its class and will be operated by the navy's Military Sealift Command. The ship is named in honor of the city of Apalachicola, and will be the second US.. Navy ship to bear that name.
The keel-laying ceremony for the vessel took place in Mobile, Alabama, on 21 January 2020.
"Apalachicola's sister ships are successfully supporting naval commands on the US East and West Coasts, along with forward deployments in the Middle East, Africa, Mediterranean, South America, and Asia regions.  In the coming months, this highly complex, high-speed ship will join the others to support our great Navy," Austal USA President Rusty Murdaugh. commented.
EPF class ships are designed to transport 600 short tons of military cargo 1,200 nautical miles at an average speed of 35 knots. The ship can operate in shallow-draft ports and waterways, interfacing with roll-on/roll-off discharge facilities and on/off-loading the Abrams main battle tank (M1A2).
The EPF includes a flight deck for helicopter operations and an off-load ramp that will allow vehicles to drive off the ship quickly. EPF's shallow draft further enhances littoral operations and port access. This makes the EPF an extremely flexible asset for support of a wide range of operations, including maneuver and sustainment, relief operations in small or damaged ports, flexible logistics support, or as the key enabler for rapid transport.
The US Navy awarded contracts to Austal for the EPF 13 in 2018 and 2019.
The company has delivered twelve EPFs since December 2012. The start of construction on the future USNS Point Loma (EPF 15) will commence at the end of this month. USNS Apalachicola is slated for delivery this summer.