US, UK and Australia team up for Pacific Partnership 2022
The US Navy, Royal Navy and Australian Defence Force (ADF) military members have teamed up as part of the Pacific Partnership 2022 (PP22) mission team, the largest annual multinational humanitarian assistance and disaster relief preparedness mission conducted in the Indo-Pacific.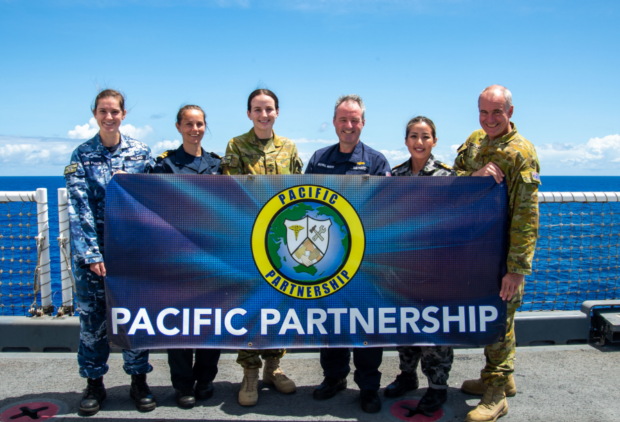 The teams embarked aboard Military Sealift Command hospital ship USNS Mercy (T-AH 19) to conduct humanitarian aid and disaster relief (HADR) activities.
Each year, the Pacific Partnership team works collectively with host and partner nations to enhance regional interoperability and disaster response capabilities, increase security and stability in the region, and foster new and enduring friendships in the Indo-Pacific.
USNS Mercy serves as PP22's mission platform.
This year, the UK's contributions to Pacific Partnership extend beyond the mission's deputy commander. Later in the mission, HMS Tamar (P233), a Royal Navy offshore patrol vessel (OPV), will join the Pacific Partnership team.
The ADF officers representing the Australian Army, navy and Air Force embarked Mercy as well. These members form a Gender, Peace and Security (GPS) Team that aims to work with host and partner nations, focusing on the human rights of the most vulnerable members of society during disaster and crisis responses as addressed by the United Nations Security Council Resolution 1325.
This core team will be joined by ADF medical personnel, who will provide specialized support during port visits throughout the mission.
"For each port visit, we plan and schedule medical events that take place like side-by-side engagements and environmental health all the way up to surgery onboard," Lt. Lesley Hailey, a navy medical planner from the UK commented.
"Everyone is critical to make sure this mission runs as successfully as it can be. I want to make sure that every individual feels like they are part of the mission and their contribution is as important as someone else's," Captain Charles Maynard, Royal Navy, who serves as the PP22 deputy mission commander, stated.