US-based shipbuilder Huntington Ingalls Industries (HII) has christened Legend-class national security cutter Calhoun (WMSL 759) at a ceremony held at the company's Ingalls Shipbuilding division.
As informed, the vessel is named to honor Charles L. Calhoun, the first master chief petty officer of the US Coast Guard.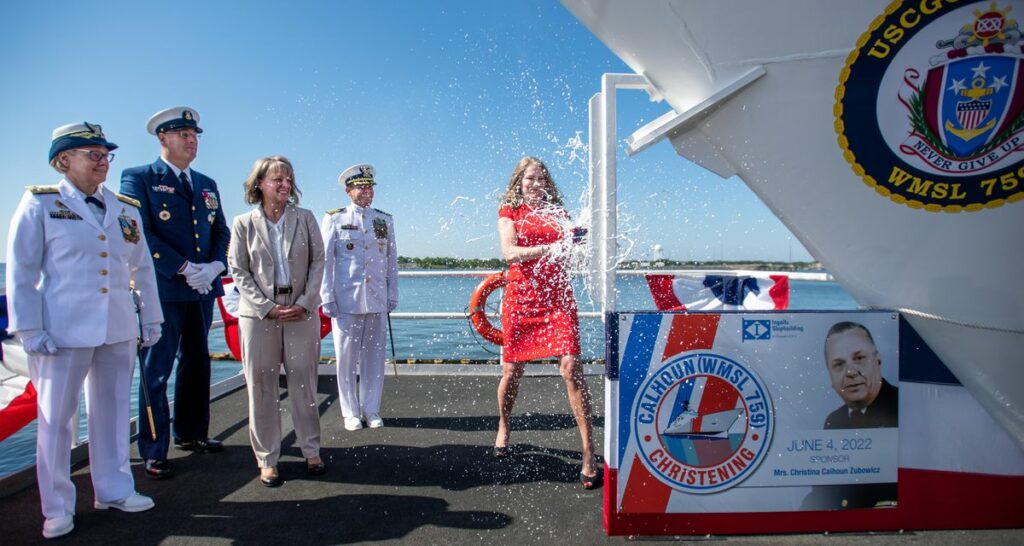 Calhoun served in the US Navy for three years during World War II and was honorably discharged in 1946.
The christening ceremony took place on 4 June, while the ship was launched in April this year.
"… Christening is an acknowledgement of an important and valued partnership between our shipyard and the United States Coast Guard," Ingalls Shipbuilding President Kari Wilkinson said.
"We consider it a privilege to build these magnificent ships and as shipbuilders, we are humbled to further Master Chief Calhoun's legacy."
"These national security cutters are absolutely vital to our national security and economic prosperity. We are a global coast guard, forward deployed — conducting exercises with maritime forces, strengthening security partnerships and maritime governance in critical parts of the world right now," commandant of the US Coast Guard Adm. Linda Fagan added.
Ingalls Shipbuilding is the designer and provider of the US Coast Guard Legend-class national security cutters. 
The flagship of the Coast Guard fleet, national security cutters are capable of embarking and supporting a wide range of US Coast Guard, navy and NATO manned and unmanned aircraft.
The company has delivered nine Legend-class national security cutters, and two more are under construction. 
Calhoun, the 10th national security cutter, is scheduled to be delivered early next year.