HII gets $240 million to work on US Navy's LPD 32
American shipbuilder Huntington Ingalls Industries (HII) has revealed that its Ingalls Shipbuilding division received a contract from the US Navy to conduct construction activities for amphibious transport dock LPD 32.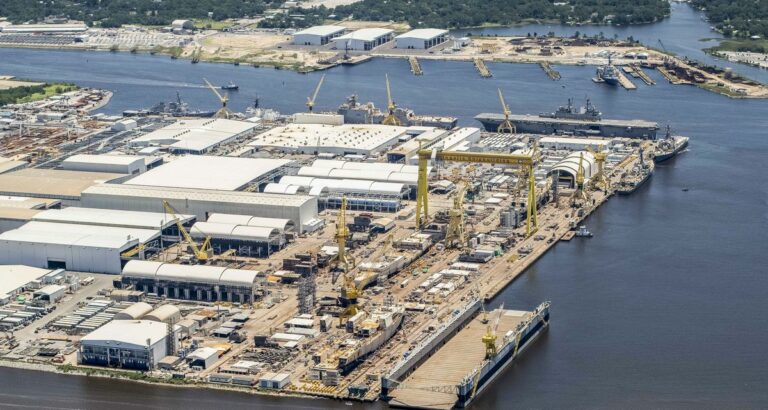 LPD 32 will be the third Flight II amphibious ship in the San Antonio class.
LPD Flight II is the next generation amphibious ship to replace Whidbey Island (LSD 41) and Harpers Ferry (LSD 49) classes of dock landing ships.
Ingalls has delivered 12 San Antonio-class ships to the US Navy and has two more under construction, including Richard M. McCool Jr. (LPD 29) and Harrisburg (LPD 30).
The US Navy accepted delivery of the future USS Fort Lauderdale (LPD 28), the 12th San Antonio class-amphibious transport dock ship in March this year.
Furthermore, the company christened Richard M. McCool Jr. (LPD 29) last week.
Fabrication of the 15th San Antonio-class ship, Pittsburgh (LPD 31), will begin later this year.
"Our shipbuilders are proud to continue building these amphibious ships that are integral to the Navy fleet," Ingalls Shipbuilding President Kari Wilkinson said.
"The funds from this contract will be used to purchase long-lead time material and major equipment across a supplier network of nearly 400 companies in 30 states."
The San Antonio-class LPD is designed to support embarking, transporting, and landing US Marines and their equipment by conventional or air-cushioned landing craft.
The ship's capabilities are further enhanced by its flight deck and hangar, enabling the ship to operate a variety of US Marine Corps helicopters and the Osprey tilt-rotor aircraft (MV-22), according to the navy.
The vessels are able to support a variety of amphibious assault, special operations, expeditionary warfare, or disaster relief missions, operating independently or as part of Amphibious Readiness Groups, Expeditionary Strike Groups, or Joint Task Forces.